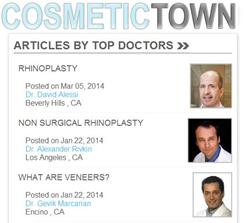 We are imposing these strict quality control standards in order to ensure that the site remains a trustworthy source for the latest cosmetic procedures and treatments. - Yehuda Gladen, Editor In Chief
Los Angeles, CA (PRWEB) July 31, 2014
Cosmetic Town is a new web directory that connects Southern California's best Plastic Surgeons to consumers considering cosmetic treatments. The site features doctors who have been recommended by their peers whose goal is to educate prospective patients on a variety of cosmetic surgeries. The doctors are selected through a validated referral system that helps patients find cosmetic specialists in their area who are the best in their respective fields.
Cosmetic Town started its recruitment of Plastic Surgeons and Cosmetic Doctors in Los Angeles, California, but soon expanded to include other California cities such as San Diego and San Francisco. Cosmetic Town's listing of recommended doctors includes before and after photo galleries, video galleries, and original articles that spotlight advanced cosmetic procedures. Cosmetic Town doctors will be able to interact with users using the site's community features and multimedia forum.
Cosmetic Town's in depth articles from top Plastic Surgeons contain thorough analysis on a range of hot topics in the cosmetic field. These articles are automatically submitted and approved for peer review in order to ensure quality content that is helpful to patients. Unlike other peer reviewed articles that are aimed at academics, these articles are meant to be consumed by patients who are learning about the latest surgical and non surgical innovations in cosmetic surgery. Cosmetic Town provides a wealth of educational tools such as photos and articles so patients can become more informed about the variety of treatments that are available. The site also provides authenticated patient reviews that users can trust. Cosmetic Town's Editor explained the site's objective, "We are imposing these strict quality control standards in order to ensure that the site remains a trustworthy source for the latest cosmetic procedures and treatments."
About Cosmetic Town
Cosmetic Town is the only cosmetic industry site which authenticates both doctors and real patients. The site features doctors that have been carefully reviewed and endorsed by their peers making it easy for users to find the most qualified and highly recommended cosmetic doctors in their area. Users can also read about the latest news in plastic surgery, anti aging treatment, hair restoration, cosmetic dentistry, and facial and body modification at Cosmetic Town Journal.