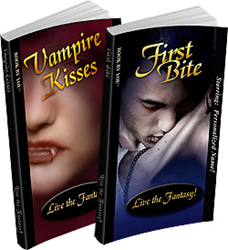 Personalized vampire novels starring you! From BookByYou.com.
(PRWEB) July 31, 2014
Vampire lovers got a nice juicy taste of drama and romance at this year's Comic Con with "The Vampire Diaries" panel. Now there's something even juicier they can take a bite out of: Book By You's personalized Vampire and Werewolf novels
Whether they're into fangs or fur and claws, fans of "The Vampire Diaries", "Twilight", "The Originals" and "Hemlock Grove" can take the sexy drama into their own homes (and bedrooms) with steamy personalized romances from Book By You.
Book By You, the leading publisher of personalized novels, offers two personalized books, "Vampire Kisses" and "First Bite", which vampire fans will devour wholeheartedly. In "Vampire Kisses", a young co-ed encounters a mysterious and handsome stranger at a party and later decides to track him down, only to find that the tables have been turned and she's the one being hunted. In "First Bite", the prefect novel for paranormal teen romance fans, hero and heroine meet in a dark library and are instantly drawn to each other, and though he tries to stay away, afraid his dark impulses may overcome him, he finds her irresistible. Both personalized books are full of suspense, intruige, and romance—will love conquer all, with the hero and heroine together literally forever, or will dark nature and mystery keep them apart?
Book By You harkens back to the father of all vampires with the personalized classic, Bram Stoker's "Dracula." This ageless 1897 novel of gothic horror begins when a young attorney's is hired by aristocratic Count Dracula, little realizing he's a mere pawn in the evil vampire's plan for world domination. Soon the horror spreads to London as the Count stalks new victims, including the attorney's bride-to-be and her friend. When the friend wastes away from a mysterious illness, the couple seeks help from a renowned doctor…who suspects Dracula. Can they stop the Count and his grisly plot?
Prefer running with the wolves to stalking vampires? Join the pack with Book By You's to personalized werewolf novels, "Night Wolf" and "Fierce Moon". In Book By You's personalized romance, a modern mystery-loving heroine is swept back in time and into the arms of a steamy detective…who undergoes a wild change beneath the light of the full moon. Could his werewolf alter-ego be responsible for the horrific crimes he's vowed to solve? And what will happen to the mystery-loving heroine when her trail of clues leads straight to danger? In Book By You's personalized teen book "Night Wolf", a time-traveling high school senior ends up in Victorian England, where she's caught up in an investigation involving a deadly serial killer known only as The Beast. The heroine must learn to adapt to the new time period she's found herself in…and figure out the dark secret the hot young man she just met seems to be keeping.
Vampire and Werewolf lovers alive can live their fantasies by personalizing any—or ALL— of these personalized romances. They can personalize both the hero and heroine of each novel, making the perfect treat. Who wouldn't want to star in their own lusty, intense romance by co-authoring these personalized books? Readers select the names and features for the main characters in the books, including friends, a significant other, or Hollywood stars, and even a pet. The characters' hair color, eye color, figure, favorite restaurant and drink are some of the story's 26 personalized characteristics that result in thousands of personalizations in each of these books.
Book By You's entire personalized collection is now also available as personalized ebooks. Personalized ebooks are available for download immediately upon ordering— the perfect last minute Valentine's gift. To make them especially unique, each ebook includes a free photo upload feature. Add a steamy personalized Valentine's dedication, and the result is a remarkable ebook that can be taken anywhere and read any time.
To purchase a personalized romance, readers go to the company's website at BookByYou.com and complete a character questionnaire specifying the information to be included in the books. The company offers a free demonstration area where readers can preview personalized excerpts from any of the company's teen, romance, mystery, or children's personalized books.
BookByYou.com has received national media coverage and has been featured on ABC's The View, CNN, Fox News, The Wall Street Journal, Jimmy Kimmel Live, and many other media outlets.
BookByYou.com is an interactive publishing company and the world's largest provider of personalized books. Media interviews, promotions, and give-aways are available upon request. Please contact Michael Pocock at 1-877-989-1440 or publish(at)BookByYou(dot)com.