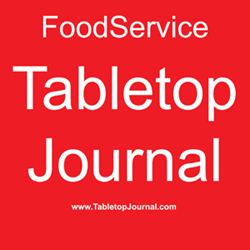 'July has been another record readership month and, in August, we very well will surpass total readership figures for all of last year...'
Millersville, MD (PRWEB) August 02, 2014
TabletopJournal, a publication dedicated to serving and celebrating the world of tabletop products within the hotel, restaurant, and catering industries continues to grow, achieving record readership numbers again in July.
"Since its inception in mid-2011, TabletopJournal readership has grown both in overall readership and the locations around the globe where it is read," commented Editor Dave Turner. "July has been another record readership month and, in August we very well will surpass total readership figures for all of last year….with four months left in to go in 2014. Needless to say, we are pleased to be able to provide our readers with such relevant content and our advertisers with such viewership for their ads."
Intended to be a place to showcase great tabletop products and their role in the overall hospitality guest dining experience – along with the restaurants, hotels, and caterers who use them – TabletopJournal was launched as result of the efforts of Turner, an experienced, 25+ year veteran of several tabletop companies. Targeted primarily at chefs, food & beverage managers, and tabletop decision-makers, TabletopJournal has become the global go-to place for category information and opinion.
According to Turner, "Hospitality tabletop – whether it is china, glass, flatware, linens, serveware, or disposables - is a great category with many passionate people. We intend to continue to share our passion for great products, people, and places, along with our message that, indeed, tabletop matters."
To find out more about TabletopJournal, go to http://www.tabletopjournal.com.