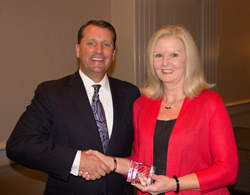 Orange Beach, AL. (PRWEB) August 01, 2014
Columbia Southern University, an online university based in Orange Beach, Ala., was named as one of the 2014 Best Companies to Work for in Alabama in the Large Employer category rankings.
The awards program was created in 2010 as a project of Business Alabama magazine and Best Companies Group.
This statewide survey and awards program identifies, recognizes, and honors the best places of employment in Alabama, benefiting the state's economy, its workforce, and businesses.
"We are very thrilled about this impressive recognition," said Senior Vice President Chantell Cooley. "It is truly an honor to know how much our employees enjoy working and growing professionally with CSU. We are all dedicated to changing lives by offering exceptional customer service to those seeking a better life through education."
"CSU is an organization that is committed to and lives out its mission and core values every day. When you become a part of CSU, you not only have a great job, you also become part of a positive work environment where opportunities exist to grow both professionally and personally," added Sue Butts, vice president of Human Resources.
Business Alabama honored CSU at the Best Companies to Work for in Alabama awards ceremony held on July 31 at the Hyatt Regency Wynfrey Hotel in Birmingham, Ala.
Managed by Best Companies Group, employers in Alabama participate in a two-part assessment process designed to gather detailed data about each company. In part one, the employer completes a questionnaire and in part two, employees of the company complete an employee survey.
Employers are asked to provide basic information about their company such as workplace policies, practices, and demographics.
To be considered for participation, companies had to fulfill the following eligibility requirements:

Be a for-profit or not-for-profit business or government entity
Be a publicly or privately held business
Have a facility in the state of Alabama
Have a minimum of 15 employees working in the state of Alabama
Must be in business a minimum of one year
This program is presented by Business Alabama and the Alabama Society for Human Resource Management. For more information on the Best Companies to Work for in Alabama program, visit http://BestCompaniesAL.com.
CSU offers online associate, bachelor's and master's degree programs in various fields such as fire administration, occupational safety and health, criminal justice and business administration. Visit http://www.ColumbiaSouthern.edu to learn more.