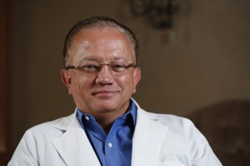 'Since it happens while you sleep, most people don't even know they are doing it until the symptoms start to appear,' he said. 'I'm more likely to notice it because of the state of their teeth than they are to tell me about it.'
New Albany, IN (PRWEB) August 19, 2014
New Albany dental expert Dr. Ronald Receveur wants people to know that stress is not only bad for their heart and nerves, it's also bad for their teeth.
Studies show that bruxism, or teeth grinding, often is stress-related.
Besides wearing away the teeth, Dr. Receveur said bruxism also affects the jaw muscles and temporomandibular joint (TMJ).
"Since it happens while you sleep, most people don't even know they are doing it until the symptoms start to appear," he said. "I'm more likely to notice it because of the state of their teeth than they are to tell me about it."
While teeth grinding doesn't have a cure, Dr. Receveur said people can follow these five tips to reduce its frequency and consequences:
1. Lower your stress level.
2. Help your jaw relax before bed with a muscle relaxer or warm washcloth.
3. Have your dentist give you a splint, which is a mouth guard that keeps your teeth from rubbing against each other.
4. Cut the caffeine.
5. Cut the alcohol.
Dr. Receveur, who practices in New Albany, Ind., across the Ohio River from Louisville, Ky., offers Louisville cosmetic dentistry services and general dentistry such as teeth cleanings, X-rays, fillings, extractions, root canals, crowns, teeth whitening and veneers.
Dr. Receveur also is an expert in more advanced implant dentistry like All on Four dental implants, All on Six dental implants, mini dental implants, dental implants in one day, dental implants in one hour, bone grafting and sinus lifts, all with IV sedation dentistry.
Dr. Receveur offers a five-year warranty on all cosmetic and prosthetic work.
Dr. Receveur, a New Albany, native, has been the family dentist of choice for Southern Indiana and Louisville since 1981.
Dr. Receveur was born with a partial cleft palate that left him with a missing front tooth. As a child he "wore an awful removable partial." As a teenager, Dr. Receveur received a permanent bridge, but his dentist destroyed one of his healthy, natural teeth in the process. These dental experiences helped drive him to find better dental solutions for his patients.
Dr. Receveur graduated from Indiana University Southeast with honors in chemistry, after which he earned his doctorate in Dental Surgery from the Indiana University School of Dentistry.
Dr. Receveur has attended more than 5,000 hours of postgraduate training and even gone to Portugal to study with the best dentists in the world. He has been awarded numerous advanced certifications in Implant, Sedation, Comprehensive, Restorative and Aesthetic dentistry so he may provide the most current dental techniques to his Louisville and New Albany dental patients.
Those looking for Louisville dental cosmetics and other cosmetic and reconstructive dentistry should go to NewAlbanyImplants.com for more information.