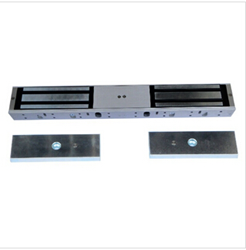 (PRWEB) August 07, 2014
SWAccessControl.com, one of the world's leading magnetic lock companies, has released its new designs of 500kg double door magnetic locks(LED). According to the company's development manager, all customers that place an order for these new locks can enjoy a discounted price, up to 28% off.
The company's 500kg double door magnetic locks(LED) is made from durable materials and come with a quality guarantee. They can create a safe home for the users. SWAccessControl.com has won many positive reviews for its wonderful items, including RFID Access Controllers, RFID access control systems, Weatherproof Proximity Card Readers and many others.
The product description of the company's 500kg double door magnetic locks (LED) is as follows:
Lock Dimension: 530Lx73Wx40H(mm)
Armature Plate Dimension: 185Lx60Wx13H(mm)
Holding Force: 500kgx2(1200Lbsx2)
Input Voltage: DC12V or DC24V+10%
Current: 12V/420mA x2 24V/210mAx2
Signal Output:Dry Contact,Max Rating of Contact Current 3A
LED: Red indicates the door is unlocked; green indicates the door is locked
Surface Temp;≤+20℃
Operating Temp:-10~+55℃ (14-131F)
Suitable Humidity:0~95% (non-condensing)
Finishes for Shell:Anodized aluminum
Finishes for Magnetic:Zinc
Finishes for Armature:Zinc
Weight:9kg
"We are excited to announce our new magnetic locks. These new items are all well created by top designers, and they are offered in several different versions. Each of them is quality and cheap at the same time. Customers can find more detailed information about them on our website," the development manager says.
About SWAccessControl.com
SWAccessControl.com is a leading online store of access control system products. With an aim of offering the most affordable and convenient products, the company often announces new innovative products. In addition, it launches big promotions at its one stop website frequently. Customer service is the top priority of this professional supplier.
More details about its high quality products can be found at http://www.swaccesscontrol.com/?content/product/category/8/index.html.