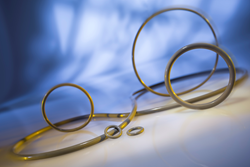 Kulpsville, PA (PRWEB) August 06, 2014
Greene, Tweed has announced the launch of Chemraz® XPE-HP, a perfluoroelastomer designed to withstand the harsh chemistries of advanced etch and deposition wafer processing. Resisting both radical oxygen, ozone, UV and fluorine environments, this new material enables increased chip yield and equipment productivity.
As etch and deposition wafer processing operations progress beyond 28nm, more diverse chemistries are required to maintain control of critical features in 3D architectures and devices. This has placed increased demand on sealing materials and systems in the semiconductor industry. Whereas seals could resist a few select gasses in the past, they must now withstand an array of harsh environments without breaking down and causing particulation.
To address this need, Greene, Tweed has developed Chemraz XPE-HP, a new sealing compound that resists O2 plasma, ozone, and UV environments, and stands up to fluorine-based plasmas like CF4 and NF3. With high temperature capability and excellent compression set, it enables reduced maintenance through extended life. And by achieving such versatility, it affords operators the ability to source one material for use across the board.
"The process operating environments have really blurred between etch and deposition at 22 nm and below," says Rick Andersen, General Manager Semiconductor & Solar. "Chemraz XPE-HP, which extends the already proven wide range of XPE performance, will contribute greatly to enabling our customers' next generation process technology insertions. We're very excited about the possibilities it brings to our customers."
Greene, Tweed has begun production of Chemraz XPE-HP with a number of strategic partners. For more information on this and other solutions, visit http://www.gtweed.com/markets/semi-solar.
Greene, Tweed leverages expertise in a variety of markets and products to give customers the most innovative solutions to meet performance challenges and reduce total cost of operation. With fully qualified engineering, sales and support personnel located throughout the Americas, Europe and Asia, Greene, Tweed delivers solutions to individual customer applications on a global scope. Greene, Tweed products are sold and distributed worldwide. For additional information, contact Greene, Tweed at +1.215.256.9521 or visit our website at http://www.gtweed.com.
Collaborative innovation from GREENE, TWEED & CO., INC., and DAIKIN INDUSTRIES, LTD.