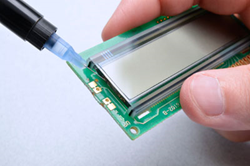 (PRWEB) August 04, 2014
With a flowable, moderate viscosity, EP3SP5FL adheres well to a variety of substrates including metals, composites, glass, ceramics, many rubbers and plastics. It has a high tensile lap shear strength exceeding 2,000 psi at room temperature when bonding aluminum to aluminum. EP3SP5FL is an effective electrical insulator and it withstands thermal cycling, impact and shock. It also resists water, oils, fuels and has low shrinkage upon curing.
The service temperature range for this system is -60°F to +200°F. At ambient temperatures, EP3SP5FL has a hardness greater than 85 Shore D, but it softens above 200°F to 25-30 Shore D. This characteristic can allow the epoxy to be more readily reworkable than most other epoxy systems.
EP3SP5FL is available in syringes, ½ pints, pints and quarts containers. It has a minimum shelf life of 3 months and a maximum of 6 months in its original, unopened containers.
Master Bond High Bond Strength Epoxies
Master Bond EP3SP5FL is a moderate viscosity, snap cure epoxy that features the ability to be reworked. This one part system also features high physical strength properties. Read more about Master Bond's epoxies with high tensile lap shear strength at http://www.masterbond.com/properties/high-shear-strength-adhesives or contact Tech Support. Phone: +1-201-343-8983 Fax: +1-201-343-2132 Email: technical(at)masterbond(dot)com.