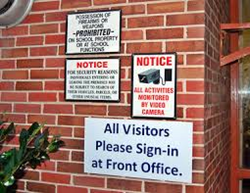 'We're going to have specific cameras look at license plates at the entrances and exits and take facial shots at school doors,' said, Craig Tunks, the district's director of technology. 'We will know who's on campus and what they look like.'
Atlanta, GA (PRWEB) August 11, 2014
In a post Sandy Hook Elementary era, many public schools have implemented various measures to ensure the safety of children while in their care. Most schools now require visitor check-in. In addition, they have installed metal detectors, security cameras, student ID badges, random sweeps for drugs and weapons, and elimination of lockers to help deter violence and/or inappropriate behavior among other precautions.
The Ridgefield School District in Connecticut has taken advantage of new technology by implementing automated computer announcements that notify police and the school district's central office in the event of an incident. Security cameras with motion sensor has also been installed along with additional school resource officers and well trained staff. "We're going to have specific cameras look at license plates at the entrances and exits and take facial shots at school doors," said, Craig Tunks, the district's director of technology. "We will know who's on campus and what they look like." While schools have ramped up security, Security Product Depot has offered the following tips on how parents can help protect their children:

Ask the school to provide you with their emergency and safety plans in case of an incident, including what emergencies they have planned for and the protocol of how and when the parents will be notified.
Considered purchasing a cell phone for your child with pre-programmed numbers.
Talk to your child about bullying. Teach them if they are bullied or see other children being bullied to tell you, their teacher, or a trusted adult.
Ensure younger children memorize their phone number and full address, including area code and zip code. Write down other important phone numbers such as your work and cell phone on a card for your children to carry with them.
Be alert to changes in your child's eating and sleeping habits and personality or if you notice your child seems unhappy, anxious or withdrawn, it could indicate an uncovered issue. Encourage them that it is safe to talk openly and that you will help them with a resolution.
Parents of elementary aged children should accompany their children to the bus stop and wait with them until the bus arrives. Pair older children up with similar age children who walk to the bus stop. Strength is in numbers.
When waiting on the bus, children should be taught to stand 6 feet away from the curb and use the bus handrails.
Get involved. Become a room parent and join the PTA. Stay in close contact with their teachers and share any issues that concern you.
Don't personalize clothing or book bags. Younger children may be vulnerable to someone who they think knows their name.
Monitor your child's internet use, monitor text messages and get to know their friends. Be involved.