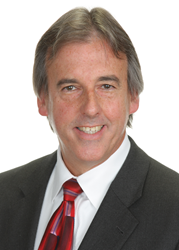 Bloomington, MN (PRWEB) August 05, 2014
NEWSCYCLE Solutions announces the promotion of Peter Marsh to a new position as vice president of marketing. Marsh joined Newscycle in 2013 to oversee the company's product marketing initiatives. Under this new title, Marsh expands his marketing role to include corporate communications and branding, client advisory board activities, and management of the company's global marketing team. Marsh is based in Massachusetts and reports to Dan Paulus, Newscycle's chief revenue officer.
Prior to joining Newscycle, Marsh served as senior vice-president of product management at Atex Group Ltd. While at Atex, he led a team of product managers, marketing managers and digital media specialists responsible for the company's global solutions portfolio. Marsh was the chief executive officer of 5 Fifteen, Inc., where he directed all North and South American sales, professional services, finance and consulting operations. Earlier in his career, Marsh was the founder of Deadline Data Systems, a start-up company that developed one of the industry's first software applications designed to integrate legacy newspaper editorial and advertising systems with desktop tools like QuarkXPress and Adobe InDesign.
"Pete Marsh is an important part of Newscycle's management team and has managed the product marketing department very effectively," said Dan Paulus, Newscycle's chief revenue officer. "We appreciate his talents and industry insights as he leads Newscycle's marketing efforts—he is committed to our customers and their successes. His experience working with a global team in markets worldwide is impressive."
"I am proud to be a part of NEWSCYCLE Solutions and to lead an incredibly talented team of product marketing and marketing communications experts," said Marsh. "The news media industry continues to undergo radical changes. Competitive pressures are fiercer than ever. Newscycle is fully committed to the long-term success of this industry, where challenges and opportunities abound. We proudly play a vital role in providing the enabling technologies that help our customers produce the highest quality content, the most relevant advertising, and the greatest level of audience engagement across all media channels. As we navigate this future together, the Newscycle marketing organization will continue to make 'the voice of the customer' our top communications priority."
Marsh lives in Topsfield, MA, with his wife, daughter and twin sons. He also currently serves as Chairman of the Board of Directors for Samaritans, a non-profit organization in Boston dedicated to suicide prevention.
About NEWSCYCLE Solutions
NEWSCYCLE Solutions, which was formed by the combination of DTI, SAXOTECH, Atex AdBase and MediaSpan, delivers the most complete range of software solutions for the global news media industry, including news content management, advertising, circulation, audience, and analytics. NEWSCYCLE Solutions is a trusted technology partner serving more than 750 media companies with 8,000 properties across more than 30 countries on 6 continents. The company is headquartered in St. Paul, MN and has U.S. offices in Florida, Michigan and Utah; with international offices in Canada, Denmark, Germany, Norway, Sweden, and the United Kingdom. For more information, go to http://www.newscyclesolutions.com.
Media Contact:
Lisa Speth
Marketing Communications Manager
lisa(dot)speth(at)newscyclesolutions(dot)com