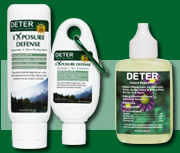 Deter Exposure Defense, SPF 35 is the result of extensive research. It offers safe and effective skin protection against the most serious threats to our skin while participating in outdoor activities. - Brad Zaro, President & CEO of Mariner Biomedical
Salt Lake City, UT (PRWEB) August 06, 2014
Mariner Biomedical, Inc. exhibiting at the Outdoor Retailer Summer Market, used the opportunity to announce two new products. The company's latest product innovation is Deter Exposure Defense, SPF 35 which provides powerful skin protection against threats due to sun, wind and temperature extremes. Also introduced, is a new leak proof bottle for the popular Deter Insect Repellent®.
Deter Exposure Defense provides triple action skin protection; broad spectrum SPF 35 sun protection, proven skin barrier protection to shield skin against moisture loss, and unique marine algae antioxidants plus vitamins C and E to combat free radical damage. It is natural, safe to use on children, biodegradable and environmentally friendly. Deter Exposure Defense has excellent skin feel, will not interfere with outdoor activities and remains comfortable on the skin for extended periods. It is available in a convenient field-ready 2 ounce tube with carabineer and a 4 ounce tube. Deter Exposure Defense offers outstanding skin protection during extreme outdoor activities, including cycling, hiking, climbing, backpacking, kayaking, skiing and snowboarding.
The new 1 ounce leak proof and shatter proof bottle for Deter Insect Repellent® was developed in response to customer requests for a "bullet proof" container that would not leak into backpacks, day packs or pockets. The leak proof bottle contains the same natural insect repellent formulation proven effective over 6 hours by an independent laboratory. Deter Insect Repellent® is clinically tested safe, Dermatologist approved and biodegradable. Deter Insect repellent® has a light non-greasy skin feel and pleasant spearmint scent. The 1 ounce leak proof bottle joins 2 and 4 ounce spray bottles along with individually packaged towelettes offering several convenient choices when using the most effective botanical insect repellent available.
"Deter Exposure Defense, SPF 35 is the result of extensive research. It offers safe and effective skin protection against the most serious threats to our skin while participating in outdoor activities," explains Brad Zaro, President and CEO of Mariner Biomedical. "Deter Exposure Defense provides broad spectrum UVA/UVB protection along with a skin protectant to reduce moisture loss and antioxidants to help combat free radical damage in one convenient to use product. We are also excited to introduce a leak proof small bottle option for our popular insect repellent. Outdoor enthusiasts now have an option to carry Deter Insect Repellent during extreme activities without risk of spilling or leaking."
About Deter Exposure Defense
Deter Exposure Defense is a combination of zinc oxide sunscreen, the sunscreen most often recommended by Dermatologists, combined with lanolin an approved skin protectant in an antioxidant rich formulation. Special carotenoids from the marine algae Dunaliella Salina which help it survive harsh environmental conditions are included along with vitamins C and E in stable ester forms to combat damaging free radicals. Six moisturizers and botanical oils maintain moisture balance. This unique combination of ingredients offers SPF 35 broad spectrum sun protection combined with a protective barrier against the drying, and damaging, effects of wind and temperature extremes. The result is effective triple action skin protection while engaging in outdoor activities.
About Deter Insect Repellent®
Deter Insect Repellent® is an effective patent pending botanical insect repellent based on scientific research. It repels mosquitoes, ticks, no-see-ums, biting flies, chiggers and gnats over 6 hours. Deter does not contain any DEET, the active ingredient in many insect repellent products which may pose significant health and environmental risks. Deter Insect Repellent® is clinically tested safe, Dermatologist approved and proven effective over 6 hours by an independent laboratory. http://www.deterinsectrepellent.com
About Mariner Biomedical
Mariner Biomedical, Inc. is a bio-pharmaceutical company dedicated to developing topical skin care therapies based on scientifically validated natural and marine products that are safe, effective and environmentally friendly. The Mariner Biomedical research laboratory and offices are located in San Jose, CA. Mariner Biomedical has a management and research team with over 50 years of pharmaceutical, biotechnology and clinical research experience.