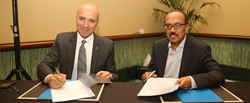 Dubai, UAE / Chennai, INDIA (PRWEB UK) 5 August 2014
Close on the heels of signing a leading MRO in US as its customer, Ramco Systems, the global Aviation software provider on Cloud, Mobile and Tablets, today announced Middle East based Falcon Aviation Services as its 65th Aviation customer.
Based at Al Bateen Executive Airport, Falcon Aviation Services operates a fleet of corporate jets conducting VIP charter flights, as well as a fleet of helicopters serving the offshore oil and gas industry. The company also conducts search and rescue, aircraft management, maintenance, repair and overhaul (MRO), as well as consulting operations.
As per the agreement, Ramco will be providing its complete Engineering, Materials Management, Maintenance, Quality, Flight Operations, and MRO modules along with ERP Financials, HR and Payroll.
On signing the agreement, Capt. Mahmoud Ismael, COO, Falcon Aviation Services, said, "Falcon has been redefining the quality of flying and in order to take this experience one notch up, we decided to embrace future ready technology from Ramco. From using multiple disparate systems, we will be moving to a single integrated offering from Ramco. Ramco's feature-rich offering with OFMS, Mobility, Flight Contracting and WorkSpaces, ensured we sealed the deal in favor of them. With Ramco Aviation Suite, we are confident of improving our operational efficiency and enhancing the overall performance of our fleet."
Commenting on the latest win, Mr. Virender Aggarwal, CEO, Ramco Systems, said, "Falcon is one of the most successful corporate jet and helicopter service providers in the UAE and GCC region. We are happy to partner with them in their next phase of growth. Middle East is like our home ground as we today count some of the largest names in the region as our customers. In the year ahead, we look forward to continue this success and add marquee names such as Falcon to our customer footprint."
Built for the Aviation sector, the Ramco Aviation Suite caters to airlines, rotor wing operators, CAMOs, air cargo and third party MROs. Ramco ended the fiscal 2013-14 year with 14 new aviation customers; including leading players like Malaysia Airlines, DanCopter, Eagle Air, Ellinair, Astra Airlines and Modern Logistics.
Middle East and Africa is the third largest market for Ramco after India and US contributing 23% to the overall revenue (FY 2013-14). Ramco in Middle East counts leading names such as Emirates, Schlumberger, GPCC, Group4Securitas, RedTag, Khimji Ramdas, Rakbank among others as clients.
About Falcon Aviation Services
Falcon Aviation Services was formed in 2006 under the initiative of HH Dr. Sheikh Sultan bin Khalifa bin Zayed Al-Nahyan, with the prime objective of filling the gaps in the local Aviation Market through the provision of innovative products and services. With its main operating base at Al Bateen Executive Airport, the premier VIP airport in the UAE and situated only 10km from the City Centre of Abu Dhabi. Falcon is ideally located for Operators and Passengers alike. Falcon are committed to delivering the highest level of aviation services that establish benchmark standards in terms of Safety, Quality and Customer Service.
About Ramco Systems
Ramco Systems provides next generation, end-to-end enterprise solutions that render complete transformation of the business in real time. Built on Ramco VirtualWorks®, all Ramco products are cloud architected by design and address the entire business cycle from transaction to analytics. Part of the USD 1 Billion Ramco Group, the company offers ERP, HCM, MRO, M&E, SCM, CRM, Financials, Service Management, Asset Management, Process Control, Project Management and Analytics to multiple verticals on the most appropriate cloud model—public, private and community. Ramco focuses on providing innovative business solutions that can be delivered quickly and cost-effectively in complex environments. Globally, Ramco has over 150,000 users from 1000+ customer organizations. The company has 20 offices spread across India, USA, Canada, Europe, Australia, Middle East, South Africa and APAC.
For more information, please visit http://www.ramco.com/aviation.
Follow Ramco on Twitter @ramcosystems/read latest updates on http://www.ramco.com/blog.
Press Contact:
Vinitha Ramani
+91 - 9840368048
vinitharamani(at)ramco(dot)com