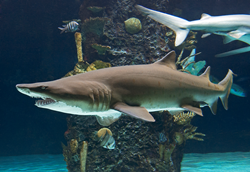 Newport, Ky. (PRWEB) August 05, 2014
With more than 55 sharks on exhibit, Newport Aquarium is the place to visit in Greater Cincinnati during Discovery Channel's Shark Week.
To celebrate Shark Week, Newport Aquarium is offering a $5 discount* on all general admission tickets for visits from Aug. 10-17. This Shark Week discount is available for purchase only through NewportAquarium.com.
A variety of shark-related activities highlights the Shark Week schedule at Newport Aquarium, where there is always more new to see and do:

Surrounded by Sharks – At Newport Aquarium's signature exhibit, guests can walk through a 385,000-gallon tank filled with four rare and exotic shark rays, sand tiger sharks, whitetip sharks, zebra sharks, as well as a sandbar, a blacktip and a nurse shark.
Shark Tank Dive Shows – Guests catch their first and largest views of shark rays and sharks at the Shark Ray Bay Theater, where our shark dive shows feature a scuba diver addressing and taking questions from the audience about the biology and conservation of sharks and other animals found inside the tank. (Aug. 10-17 at Noon; 12:20 p.m.; 12:40 p.m.; 2 p.m.; 2:20 p.m.; and 2:40 p.m.)
Shark Feedings – Newport Aquarium performs public feedings for its sharks and shark rays, where guests can watch biologists feed from either the Shark Ray Bay Theater, the Surrounded by Sharks tunnels, or through a biologist's point-of-view from the Shark Top viewing area. (Shark feeding 11 a.m. Aug. 12; Shark ray feedings 1:15 p.m. Aug. 11-15)
Shark Touch Pool – At the Shark Central exhibit, guests have the opportunity to touch dozens of sharks. An Animal Experience Specialist teaches guests the proper two-finger touch technique and helps them understand each species in this international collection.
Sharks After Dark Overnight – Guests can sink their teeth into some great shark facts and sleep safely as they swim above. Every overnight includes exclusive aquarium access, animal-themed games and activities. (Thursday, Aug. 7 at 7:30 p.m. sold out; Friday, Aug. 8 at 7:30 p.m. sold out)
For more information on Newport Aquarium, visit NewportAquarium.com or call toll free 800-406-FISH (3474).
*This special offer cannot be combined with other discounts or coupons.
###
Newport Aquarium, the No. 1 aquarium in the country according to USA Today's 10Best.com, has showcased thousands of animals from around the world in a million gallons of water since 1999. Named a top U.S. aquarium by US City Traveler in 2014 and by Travel Channel in 2013, Newport Aquarium is a Herschend Family Entertainment company and an accredited member of the Association of Zoos and Aquariums. Newport Aquarium is open to the public 365 days a year and is located across the Ohio River from downtown Cincinnati at Newport on the Levee.
Find us on: Facebook.com/NewportAquarium | Twitter: @NewportAquarium
One Aquarium Way | Newport, KY 41071 | 859-261-7444
http://www.newportaquarium.com