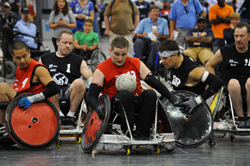 Washington (PRWEB) August 06, 2014
More than 600 of America's best wheelchair athletes, all disabled U.S. military Veterans, are arriving in Philadelphia, Pa., for the 34th National Veterans Wheelchair Games being held August 12–-17.
The Department of Veterans Affairs (VA) and Paralyzed Veterans of America present the Games each year. The multi-event sports rehabilitation program is open to U.S. military Veterans who use wheelchairs for sports competition due to spinal cord injuries, amputations or certain neurological problems, and who receive care at VA medical facilities or military treatment centers.
Adaptive sports are important in the therapy used to treat many disabilities. For many injured Veterans, the Games provide their first exposure to wheelchair athletics. Veterans competing in the Games come from nearly every state, as well as Puerto Rico and Great Britain.
This year's Games begin Tuesday, August 12 at 11:30 a.m. with a demonstration at the Thomas Paine Plaza. Kids Day at the Games* takes place Friday, August 15 at the Pennsylvania Convention Center, Hall B, where local children with physical disabilities will meet the athletes and learn about wheelchair sports. (*Advance registration required.)
Opening and Closing ceremonies will be held Grand Hall of the Pennsylvania Convention Center, 1101 Arch Street, where many of the week's competitive events will be held. Other events will be held at Moorestown High School, The Kroc Center, West River Drive and other area venues in Philadelphia and across the bridge in New Jersey. Admission is free, and the community is encouraged to attend.
Veterans will compete in 18 different sports: air guns, archery, basketball, boccia, bowling, field, handcycling, nine-ball, a motorized wheelchair relay, power soccer, quad rugby, softball, swimming, table tennis, track, trapshooting, weightlifting and wheelchair slalom.
For a complete schedule of events and additional information about the National Veterans Wheelchair Games visit http://www.wheelchairgames.org.
The U.S. Department of Veterans Affairs Office of National Veterans Sports Programs & Special Events is the recognized world leader in rehabilitative and recreational therapies for disabled Veterans. VA promotes the rehabilitation of body and spirit by operating adaptive sports clinics and competitions around the nation. Learn more about VA's adaptive sports programs and partnerships at http://www.va.gov/adaptivesports.
Founded in 1946, Paralyzed Veterans of America is the only congressionally chartered Veterans service organization dedicated solely for the benefit and representation of people with spinal cord injury or disease. It is a dynamic, broad-based organization offering VA benefits and appellate services, advocacy, employment services, and recreational sports to its more than 19,000 members in all 50 states, the District of Columbia and Puerto Rico. http://www.pva.org
# # #