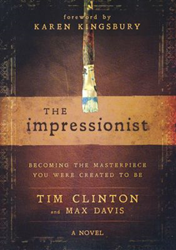 A heart-warming story of love and redemption.
Shippensburg, PA (PRWEB) August 18, 2014
With a lifetime of truth about faith and relationships and how God wants us to live, bestselling author Tim Clinton delivers his long-awaited first work of fiction—and Adam Camp, a character whose life is a glimpse into the very nature of our humanity. Clinton's mastery of storytelling has created the type of fictional character whose experience and journey strikes at the heart-chords of anyone who has ever questioned their own life's purpose.
The Impressionist is a powerful story—one that allows truth to enter our lives through the back door of our hearts. God is speaking through the lines of this story, and we learn something about ourselves through its message and the protagonist—one so unforgettable, he becomes real in the hearts and minds of those who read his story.
Middle aged, disappointed and self-loathing, Adam Camp is anything but the picture of a successful man. With his wife threatening to leave him and their son addicted to drugs, Adam teeters on the verge of absolute despair—questioning his own existence and purpose for living.
After an explosive argument with his wife, Adam searches for an escape as he sets out on a journey that will dramatically recolor his world. While walking through the city park, Adam is approached by an old painter. The mysterious artist convinces Adam to let him paint his portrait and what happens next is nothing short of a masterpiece.
"…a heart-warming story of hope and redemption."
--Max Lucado, pastor and NY Times bestselling author
"Dr. Clinton's novella will encourage, inspire and challenge you to greatness."
Pat Williams, Orlando Magic senior vice president, Author of Coach Wooden's Greatest Secret
"This book is so compelling that I skipped an NFL playoff game because I could not stop reading. This story will instruct and inspire." – Michael Lyles M.D., Christian psychiatrist, author and speaker
"The Impressionist causes us to face the truth about ourselves and our desperate need for a Savior."

Liz Curtis Higgs, New York Times bestselling author of Mine is the Night
Interviews, review copies and giveaway copies are available upon request.
Dr. Tim Clinton is recognized as a world leader in faith and mental health issues and has authored over 20 books, including Breakthrough: When to Give In, When to Push Back. In addition to being licensed in Virginia as both Professional Counselor (LPC) and Marriage and Family Therapist (LMFT), he is the President of the 50,000+ member American Association of Christian Counselors (AACC) as well as a Professor at Liberty University. Tim now spends a majority of his time working with Christian leaders and professional athletes. Most importantly, Tim has been married 33 years to his wife Julie and together they have two children.
Destiny Image, located in Shippensburg, Pa, was founded in 1983 by Pastor Don Nori, Sr. It seeks to accurately represent authors who have a call to share God's present word to His people and to make these authors easily accessible to the Christian body around the world in every form of media possible.
FOR PRESS INQUIRIES, INTERVIEWS AND REVIEW COPIES:
Brad Herman
(719) 439-4960
bherman(at)norimediagroup(dot)com