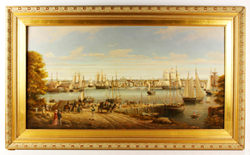 Beverly, Massachusetts (PRWEB) August 07, 2014
Kaminski Auctions Annual Nautical and Americana auction this year will held August 24th, 2014, starting at 10:00am at their Beverly auction gallery, 117 Elliot Street, Rt. 62, Beverly, Massachusetts. The sale features a fantastic selection of nautical paintings from several important marine artists including Brian Coole, as well as American artists James Fulton Pringle, Thaddeus Bannister, Charles Woodbury, A.T. Hibbard, Emile Gruppe, Chester Hardin, and Anthony Cirino. There is also a pair of America's Cup paintings of the Royal Yacht Squadron racing off Cowes, thought to be from the circle of Nicholas Matthew Condy (1815-1851).
A wonderful engraving by C. Mottram depicting Boston Harbor circa 1857 is estimated at $1,500-$2,500 and a second important engraving by Martins After Garneray, titled "Preche De La Baline - The Whale Fishery", is estimated at $1000-$1500.
Also included is an important portrait of John Appleton, merchant of Salem, circa 1800, from a Massachusetts estate. He is depicted seated before a table with a ledger and packet of letters. The work is oil on canvas, and is signed, dated and inscribed on the reverse by the American colonial era painter Michele Felice Corne (American 1752-1845). There is also a portrait of Warren Hastings, oil on canvas, labeled "Sir Joshua Reynolds."
Ship model collectors will be interested in a builder's model of the Santo Paulo for Grace Line Inc., produced by Boucher Lewis Precision Models. The piece is an exact replica and measures eighty five and three quarters inches long by twenty one inches high. It is estimated at $5,000- $7,000 while a Windsor Castle ship model circa 1950s is estimated at $200-$3000.
Americana collectors will not want to miss a Massachusetts carved eagle with a single board wingspan, from the Charlestown Navy Yard circa 1755-75. With a fifty-one inch wingspan overall and measuring over 32" high, this finely carved eagle is estimated at $2000-$3000, and would be a wonderful addition to any Americana or folk art collection. There is also a 19th century copper eagle weather vane.
Important American furniture in the sale includes an 18th century block front Chippendale mahogany desk, with fancy interior, descended from the Governor Winthrop's family. An early Queen Anne carved black walnut highboy by Samuel Sewall of York, Maine, circa 1755, will also feature in the auction. It is embellished with a cupid's bow apron and forward facing rear legs, and is estimated at $5,000-$7,000.
There is also a carved cherry wood Chippendale serpentine front four drawer chest with bracket feet, circa 1770-90, estimated at $5,000-$8,000, and a circa 1840, Colchester, CT mahogany block front slant lid desk with original brasses on magnificent double ogee feet and curlicue base with heavy brass handles on the sides. It is estimated at $3,000-$5,000. Also in the sale is a nicely carved Salem, MA secretary with elaborate finials and reed legs, including all original finish and hardware, circa 1800-10, and estimated at $3,000-$5,000.
English furniture and antiques are also well represented, as well as a large selection of Asian items including a Ming dynasty Chinese bronze Buddha, a Chinese bronze censor, an 18th Century matched pair of Qing Dynasty carved ancestral arm chairs, and a carved Zitan screen with jade insets.
Preview for this exciting sale will be held Thursday August 21st through Friday August 23rd, 10:00am-5:00pm and 8:00 am on Saturday, August 24th, day of sale. For more information or to sign up to bid go to our website http://www.kaminskiauctions.com or call 978-927-2223.