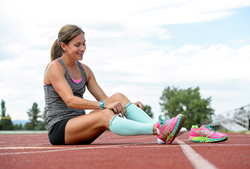 Zensah has been an important part of my recovery and comeback
Miami, FL (PRWEB) August 06, 2014
Zensah®, the athletic compression company, is excited to announce its partnership with Kara Goucher, elite American long-distance runner and two-time Olympian. The American running icon has been dealing with multiple injuries and is ready to start running again, with the help of Zensah®.
Zensah® is driven to develop compression gear for all athletes with a focus on comfort and technology. Goucher joins Zensah® in a multi-year partnership in which she will wear Zensah® Compression Socks, Compression Leg Sleeves, and Compression Tights for her running and recovery. Together, Goucher and Zensah® hope to educate all athletes on how they can benefit from compression. The addition of Kara to Team Zensah® will strengthen brand awareness across all Zensah® retailers.
"Zensah has been an important part of my recovery and comeback," says Kara Goucher. "I believe they make an excellent product, but more importantly, I believe in the people at the company. After receiving a pair of the Zensah compression leg sleeves, I was impressed with the quality and technology, and I reached out to Zensah to learn more. I absolutely love the compression socks and calf sleeves. But surprisingly, my favorite Zensah product has become the compression tights."
"When I go out for a second run," says Goucher, "I typically wear some compression socks or sleeves. I sleep in the Zensah Compression Tights or shorts a few days a week when I feel a little tight or beat up. I wake up the next day with my legs feeling recovered and ready to go. I truly believe they have helped me return to difficult training and enabled me to recover from all the pounding I'm putting my body through."
"As an elite athlete, Kara has the opportunity to choose any compression company. The fact that Kara chose Zensah is a further affirmation of Zensah's leadership in compression sportswear," says Ze'ev Feig, Zensah® CEO.
"We are thrilled and honored to have Kara as part of Team Zensah. We are very excited that Zensah compression is able to help in her running and recovery," says Feig. "Our partnership with Kara attests to the unrivaled technology and design in each of our compression products. Together, we hope to educate athletes on the benefits of compression and to develop new products with the best technology that will help all athletes in their training and recovery."
Zensah's® mission is to create innovative products that wow and inspire all athletes to achieve their goals without limits. The Zensah® Compression Leg Sleeves are currently the #1 selling compression leg sleeves in running specialty, and have been for 6 consecutive years according to Leisure Trends Group Data.
Zensah® is the only compression brand to use seamless technology to incorporate 3D pin-point ribbing into each compression product. This 3D pin-point compression applies targeted support to each muscle group. This can be seen in items like the compression leg sleeves that feature chevron ribbing for shin support and the high compression tights that include horizontal ribbing for quad and hamstring support. Athletes have come to love the unique Zensah® fabric which is incredibly comfortable while offering the best muscle support and recovery.
Goucher's running career boasts a bronze medal in the 10,000 meter World Championships, third place at her marathon debut in New York City, and competing at the 2008 Olympics in Beijing and the 2012 Olympics in London. Since her move back to Boulder, Colorado, Goucher has been training with her college coaches, Mark Wetmore and Heather Burroughs. After stress fractures in her foot, sacrum, and pelvis, Goucher is ready to start her comeback with plans to run the Rock 'n' Roll Philadelphia Half Marathon in September followed by a fall marathon.
About Zensah®:
Zensah®, the Miami-based compression brand, leads the growth for compression apparel in the running industry. The company is recognized for utilizing seamless technology in all of its athletic apparel. Zensah® has the number one selling compression leg sleeves in the US for Running Specialty and its products are praised by athletes that appreciate the comfort and technology put into each piece. Learn more about Zensah® here: http://www.zensah.com, http://www.Twitter.com/Zensah and http://www.Facebook.com/zensahsports
About Kara Goucher:
Kara Goucher is a professional American runner. She graduated from the University of Colorado with three Division I NCAA championships in cross-country. She is an American record holder, a two-time Olympian, a World Championships bronze medalist, in addition to being one of the most inspiring female distant runners of all time.
Suzanne Kerpel
marketing(at)zensah(dot)com
ZENSAH® COMPRESSION APPAREL