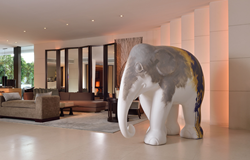 It's great to bring these fun, artsy and characterful elephant statues to our hotels. We're delighted to be part of such a great initiative to raise awareness of a very worthy cause.
Hong Kong, China (PRWEB) August 07, 2014
Swire Hotels is pleased to be part of the Elephant Parade®, the largest elephant art exhibition with over 100 elephant displays hosted by Swire Properties, with the aim of offering visitors a unique and inspiring experience this summer whilst raising awareness of the endangered Asian elephant and raising funds for conservation programs. These life-size baby elephant statues are designed by renowned local and international artists, designers, celebrities and influential brands.
 
From now until September 9, 2014, two individually painted 5-foot-tall baby elephant statues,Transitions will be exhibited at The Upper House, while Lath, will be displayed at EAST, Hong Kong.
 
With Transitions, the renowned Hong Kong architect, Andre Fu, seeks to convey the emotions as guests journey themselves within the hotel. Fu uses a palette of deep violet and gold in a series of brushed strokes to evoke a sense of depth in the texture, resulting in a layered effect that is highly sensuous. The concept also seeks to juxtapose the rhythmic quality of brush strokes with the dripping deep violet paint - much akin to the artful experience within the hotel.
 
The elephant sculpture at EAST, Hong Kong, Lath, was created by two innovative artists, James Woodward and Rocky Yip of Entendre Studios. Both artists believe in using technology as a tool to enhance human creativity with a personal touch. This design concept is reflected in the statues, making use of printed images of different parts of the hotel combined with a fun and spontaneous mix of acrylic paint colors.
 
"It's great to bring these fun, artsy and characterful elephant statues to our hotels. We're delighted to be part of such a great initiative to raise awareness of a very worthy cause," says Brian Williams, managing director of Swire Hotels. 
 
At the end of the exhibition, approximately 20 of the most prominent statues will be auctioned off for charity by Sotheby's. Proceeds from the auction will go to the Asian Elephant Foundation, an international charity that backs conservation and education projects of the endangered species listed on the International Union for the Conservation of Nature's Red List.
 
The first Elephant Parade® that took place in the city of Rotterdam, Netherlands, in 2007 raised over £3.6million (approximately HK $46million) through auctions and sales of merchandise. Elephant Parade® has also gathered a diverse, high profile set of supporters and artistic contributors, ranging from royalty to internationally recognized artists, designers, singers, actors and celebrities.
 
About Swire Hotels
Swire Hotels has been created to manage intriguing urban hotels in Hong Kong, Mainland China and the United Kingdom, providing a characterful experience for travelers who seek individuality, style and personalized service.
 
The Opposite House, Beijing, opened in 2008 and was followed by The Upper House, above Pacific Place, Hong Kong, in October 2009. The Temple House will open in Q4, 2014 in Chengdu.
 
Swire Hotels opened a 345-room lifestyle hotel called EAST, Hong Kong in Hong Kong's Island East, on January 2010. EAST, Beijing with 369 rooms, located within INDIGO in Jiangtai, opened in September 2012. EAST, Miami, offering 263 rooms and 89 serviced apartments, will open in Brickell City Centre in Q4 2015.
 
Swire Hotels has launched a new collection of locally inspired and stylish hotels in the heart of great British towns and cities called Chapter Hotels. The first hotel in the collection, The Montpellier Chapter, Cheltenham opened in 2010. The second hotel, The Magdalen Chapter, Exeter opened in June 2012.