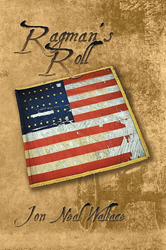 The author's research into an ancestor uncovered the story of an unsung hero of the Civil War.
(PRWEB) August 07, 2014
The Civil War – the deadliest war in American history – pitted brother against brother, father against son, and friend against friend. In Ragman's Roll, two men who were aides and security agents for President Lincoln, enlist with the Union forces.
The experiences of Will Wallace and Tom Jackson are realistically envisioned in this stirring novel by Jon Neal Wallace.
Ragman's Roll takes readers back to this bloody period of American history, as two the men enlist right after war breaks out. Tom becomes a scout for Will, who becomes General W. H. L. Wallace. As the hero of two battles, Fort Donelson and Shiloh, Wallace was responsible for saving Grant's army at the Battle of Shiloh, despite being fatally injured on the battlefield. As General Wallace lies dying, a vision appears to remind him of the reason for his sacrifice that will preserve American democracy.
About the Author
Jon Neal Wallace grew up in Burlington, Iowa. Just north, in the township of Northfield, is a cemetery holding the remains of the author's great-great grandfather, James Parker Wallace Sr., first cousin of General W. H. L. Wallace. The inspiration for this book came because of a quote made by General Grant, stating, 'Had General W. H. L. Wallace lived, I would not be where I am today.' This meant General Will did something special, "so I started researching, and found out the true facts about the general. He is the unsung hero of the Civil War." The author holds an MFA in creative writing from Goddard College. This is his first book. The next is about the Underground Railroad in Iowa.
Book Details
Genre: Fiction / Historical Military
Author: Jon Neal Wallace
Format: Paperback, 214 pages
Pub date: July 2014
RAGMAN'S ROLL (ISBN: 978-1-62516-376-9) is now available for $17.97 and can be ordered through the publisher's website:
http://sbpra.com/JonNealWallace or at www(dot)amazon(dot)com or www(dot)barnesandnoble(dot)com.
WHOLESALERS: This book is distributed by Ingram Books and other wholesale distributors. Contact your representative with the ISBN for purchase. Wholesale purchase for retailers, universities, libraries, and other organizations is also available through the publisher; please email bookorder(at)sbpra(dot)net
Further Information
Ellen Green, Press Manager, Strategic Book Publishing and Rights Agency, 703-899-8128,
pressmanager(at)sbpra(dot)net
Strategic Book Publishing and Rights Co, LLC