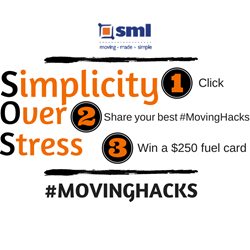 'We repeatedly hear stories about some super-smart trick a person's come up with to make moving easier. Now, we want to reward that genius,' said SML President Matt McCollum
Bedford, Texas (PRWEB) August 07, 2014
In recognition of national "Simplify Your Life" week, the national leader in moving labor, Simple Moving Labor (SML), is asking people to share their best stress-busting tips, tricks, and genius moving hacks. Click. Share. Win a $250 fuel card. It's that simple.
Moving often is seen as one of the top stress-inducing moments in a person's life, right up there with marriage, divorce, and the loss of a loved one. As we celebrate "Simplify Your Life" week, we repeat a mantra we believe in all year long – Move Simply.
"Simplicity and stress-free moving are at the heart of, not only our company, but our customers' needs as well," said SML President Matt McCollum. "We repeatedly hear stories about some super-smart trick a person's come up with to make moving easier. Now, we want to reward that genius."
The average American moves 11.7 times during their lifetime, according to the U.S. Census Bureau. This year alone, more than 43 million people will pack and move. That's more than enough hauling, packing, and unpacking to learn some tips, tricks, and stress-busting hacks.
To learn more or enter Simplicity Over Strress, click here.
ABOUT SML: Founded in 2007, SML is the nation's leading provider of moving labor services – help loading or unloading your rental truck or storage unit – as well as door-to-door full service moves. No matter your moving needs, SML delivers the manpower, work ethic, customer service, and expertise to make your next move a simple move.