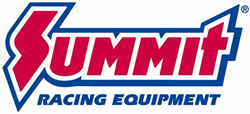 Tallmadge, OH (PRWEB) August 08, 2014
Three wing nuts are all that separate a daily driver from a straight-piped track beast. Perfect for weekend racers, Flowtech's Warlock Bypass mufflers is like getting two exhaust systems in one. On the street, exhaust gasses exit through the Warlock's three louvered pass tubes, delivering a nice, deep aggressive tone. At the track, remove the Warlock's steel restrictor plate and the muffler becomes a straight pass-though pipe. That means the exhaust is essentially bypassed and you get serious power gains—along with a window-rattling, straight-pipe snarl.
Flowtech Warlock mufflers are available to fit exhaust systems with 2.25, 2.5, and 3 inch O.D. exhaust tubing.
A Flowtech Warlock Bypass Muffler was featured on Episode 16 of PowerNation's Detroit Muscle. Watch the full episode here.
See Flowtech's Warlock Mufflers at Summit Racing.
Summit Racing Equipment
http://www.SummitRacing.com
1-800-230-3030