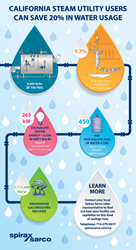 Blythewood, South Carolina (PRWEB) August 07, 2014
Spirax Sarco, the leader in products and services for steam system solutions, understands utility users' critical issues when faced with record-dry drought conditions in the state of California. They are helping support this conservation effort by introducing an exciting visual water usage savings guide that demonstrates how to reduce water consumption by 20%, decrease greenhouse gas emissions, and improve energy efficiency.
To request your free water usage savings guide visit bit.ly/1zumYB7.
###
About Spirax Sarco, Inc.
Spirax Sarco is the world leader in steam system management. The Company provides a broad range of fluid control products, engineered packages, systems expertise and site services for its diverse range of over 100,000 industrial and institutional customers. The Company helps its customers to optimize production capacity, reduce energy costs and emissions, improve product quality and enhance the safety of their operations. Spirax Sarco has strategically located manufacturing plants around the world and employs approximately 4,700 people, of whom around 1,300 are direct sales and service engineers. Further information can be found at http://www.spiraxsarco.com/us.