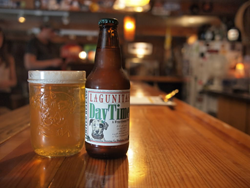 (PRWEB) August 06, 2014
What:
Fadó Irish Pub in downtown Seattle is bringing together the hottest regional craft breweries from the Northwest for their Making Strides Against Breast Cancer Team fundraiser, "The Semi-Annual Fadó Craft Beerfest." Tickets are on sale now for the Fadó Craft Beerfest which kicks off at 5pm on Saturday, August 16. A portion of ticket sales will benefit Making Strides of Puget Sound. The Fadó Team will also be recruiting volunteers to fundraise for and walk in the Making Strides of Puget Sound October event. Ticket holders will enjoy sampling from over 25 top craft beers, from featured regional craft breweries, such as Lagunitas, Two Beers / Seattle Cider, Deschutes and North Coast Brewery -- four delicious ounces at a time. Like any great American craft beer festival, Fadó is hosting a beerfest that will offer a wide variety of the best American crafts beers and great food. We'll serving up Guinness BBQ Chicken with Jalapeno Pineapple Slaw. Your favorite local Irish entertainer JP Hennessy will be performing live music during the event. After the sampling ends at 8 p.m., the party will continue well into the night with live music by The Kennedy Brothers. Tickets are $30 in advance, $40 at the door. Advance tickets are expected to sell out, in which case they will not be available at the door.
Blind taste contest: Chance for contestants to win prizes who can correctly identify three randomly selected beers in our Blind Beer Tasting Competition at 7:30 pm. Contestants, who donate to Making Strides of Puget Sound, will be drawn from a raffle to participate.
Join the Fadó Team for Making Strides of Puget Sound and learn more about the Making Strides October 18th event at the Seattle Center.
When: Saturday, August 16, 5-8 p.m.
Where: Fadó Irish Pub, 801 1st Avenue. Seattle, WA 98104
206-264-2700
Fado Irish Pub Website http://www.fadoirishpub.com/seattle/craft-beer-fest/
Details:
Ticket Information
5-8 pm: General Admission Beer Sampling Event - Tickets are $30 in advance. Tickets will be available at the door for the same price pending availability. Event Pass includes 20 sample punch card, BBQ entree and a free Uber ride (up to $30) for first time users. Additional samples will be available for purchase at the event. Purchase your tickets before August 9 using the code: "EARLYBIRD" and save!
Featured Brewery Sponsors:
Lagunitas, Two Beers / Seattle Cider, Deschutes and North Coast Brewery
And, a special sampling station with Jameson Irish Whiskey
About Fadó Irish Pub
Fadó (pronounced fuh-doe) Irish Pub was the first Irish pub to be designed and constructed in Ireland and shipped and installed in Seattle in 2000. Fadó is distinguished by its genuine Irish hospitality, quality of its pints and craic (pronounced 'crack', a uniquely Irish form of fun). Fadó has been voted 'Best Of' by a number of local and national publications, is the European sports headquarters and an official US Soccer Bar. Get in on the conversation on the pub Facebook page or by following Fadó on Twitter http://www.twitter.com/Fadoseattle and following Fadó craft beer festival hashtag at #craftbeerfest.