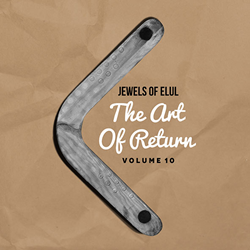 Los Angeles, California (PRWEB) August 14, 2014
What was your coming of age moment? What do you wish you knew then that you know now? What do you know now that you learned in that pivotal moment? 29 inspiring writers share their answers to these questions in this year's Jewels of Elul.
Jewels of Elul is a project that was conceived by musician, composer, and producer Craig Taubman. Ten years ago, Taubman was commissioned to write a song for the Hebrew month of Elul, the last month in the Hebrew calendar when Jews take time to reflect and meditate before the New Year holiday, Rosh Hashanah. Inspired by the experience of writing down and sharing his own Elul thoughts, Taubman invited notable writers, thinkers, politicians, spiritual leaders and artists to share their thoughts on a theme and compiled a pocket-sized anthology: Jewels of Elul. Since then, Jewels of Elul has been read by thousands of people in the weeks leading up the Jewish New Year as a tool for learning and introspection. During its ten-year history, Jewels of Elul has also attracted some of the most influential contributors of the day such as President Obama, the Dali Lama, Lady Gaga, Matisyahu and Eli Wiesel.
Beginning August 26th, readers can expect a new set of Jewels from an exciting and diverse range of thinkers, such as renowned actress, author and neuroscientist Mayim Bialik, Iranian-American comedian Maz Jobrani, leading Orthodox speaker on spirituality Nomi Freeman, Chairman and CEO of Spark Networks and JDate Greg Liberman, Rabbi Roly Matlalon, social activist and rabbi of B'nai Jeshurun, musician Basya Schechter, Rabbi Asher Lopatin, President of Yeshivat Chovevei Torah Rabbinical School, and 22 other inspiring voices, all sharing their unique insight and continuing the tradition of uplifting wisdom for the holy days.
All proceeds from this year's Jewels of Elul will benefit the new Pico Union Project. In a 105-year-old building in downtown Los Angeles, Craig N' Co - in partnership with the Jewish Historical Society of Southern California - has spearheaded the Pico Union Project, a multi-faith cultural arts center and house of worship that aims to help invigorate the community of Los Angeles and reflect the Jewish value of being a light to all nations.
New this year will be an interactive Jewels iPhone and Android app that brings Jewels beyond the book. Jewels' two main partners this year are the Milken Archive of Jewish Music (http://www.milkenarchive.org) and Reboot (http://www.rebooters.net). Milken will share a weekly musical "gem" from the archive to accompany a selected written "jewel." And five of the included writers in this year's publication have been selected by Reboot to complement two of their projects: 10Q (http://www.doyou10Q.com), an online tool for individuals to reflect on the past year; and ReBar, a project in which individuals reflect on their Bar or Bat Mitzvah experience--which led to this year's Jewels of Elul "art of return" theme.
"It's inspiring," says Taubman. "We have 29 incredible participants this year sharing insights about returning to a pivotal moment of becoming. The proceeds from this project will support the reinvention of one of the Jewish community's oldest treasures. It is a major moment of returning for the Jewish community, and the many communities that feel the ripples of our work."
Each year, Jewels of Elul inspires over 500,000 readers nationwide. This year, you want to be sure to be included in that number.
For more information, visit http://www.jewelsofelul.com, or to schedule an interview with Craig, contact Sam at samuel(dot)adot)rotenberg(at)gmail(dot)com.