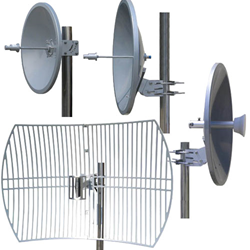 (PRWEB) August 07, 2014
"High-end Parabolic Dish Antennas are always in demand," says Mr. Liu, the senior spokesman for ZDA Communications, "A lot of distributors want to obtain cost-effective items and save time and energy."
According to Mr. Liu, A parabolic antenna is a great antenna that uses a parabolic reflector, a curved surface with the cross-sectional shape of a parabola, to direct the radio waves. The most common form of parabolic antennas is shaped like a dish; they are popularly named a dish antenna or parabolic dish.
ZDA Communications is one of the most popular online UHF Antenna suppliers in the world, and it has decided to launch a new summer promotion for its products. At the moment, almost all its quality items are offered with big discounts, up to 30% off.
It's generally recognized that ZDA Communications' Parabolic Dish Antennas are excellent. The main advantage of its new products is that they have high directivity. They function similarly to a flashlight reflector or searchlight to direct the radio waves in a narrow beam, or receive radio waves from some particular direction only.
"ZDA Communications wants to continue developing more high-end products for old and new clients. We are quite happy to announce the new collection of Parabolic Dish Antennas. The current sale is specially launched to popularize our products in August. All distributors can place an order in an easy way when shopping on our website," Mr. Liu adds.
About ZDA Communications:
ZDA Communications US LLC is an ISO 9001 manufacturer and supplier of all kinds of wireless antennas, including Yagi antennas, Parabolic dish antennas, cell tower sector antennas, External wireless antennas, mobile antennas, Broadband and Ultra Wide Band Antennas. For more details of its products, please visit http://www.zdacomm.com/wireless-antenna-category-by-type/parabolic-dish-antenna/.