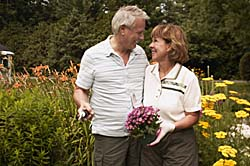 Palo Alto, CA (PRWEB) August 07, 2014
Many feel as though they've stepped off the beaten path without a road map to follow when they start providing assistance and care to loved ones, whether they live miles away or next door.
Everyone seems to be in different places on this caregiving path. Some are just starting out, having only recently realized that their husband is slowing down, both mentally and physically. Others are mid-way down the road, having already negotiated with siblings about how best to advocate for Mom. Many are looking ahead and wondering what to expect when the unexpected finally happens.
Solid Information Helps Families
No matter where people find themselves on this winding road filled with blind turns and hidden obstacles, Avenidas offers professional guides, answers to questions and emotional support at the 11th Annual Avenidas Caregiver Conference: "Finding Your Path."
This info-packed event will be at the Mountain View Senior Center, located at 260 Escuela Avenue, from 8:30 a.m. to 3:30 p.m. on Saturday, Oct. 18 and includes lunch.
Overcoming Stress of Caretaking
The day begins with a keynote presentation on "Care for the Caregiver" by Laura Kerr, PhD, mental health scholar and international lecturer. Drawing from research on the neurobiology of stress, Dr. Kerr will share ways to help people when they're feeling overwhelmed and discuss how to reengage when caretaking has them feeling depleted or at a loss for meaning in their life.
Focused Topics Provide Direction
The conference features nine workshops in three key areas: Health Resources, Legal Planning and Caregiver Wellness, with a topic from each of these tracks offered throughout the day. Those interested in the conference may discover that they want to register for all of the Caregiver Wellness topics or attend a session from within each track. It is up to each attendee to customize their day and their caregiver path.
Affinity Groups and Sweet Treats
To close the day, attendees will divide into small Caregiver Support Groups facilitated by geriatric professionals from Avenidas and community organizations to enjoy both a tasty dessert bar and lively discussions.
Center Offers Families Respite
After the groups, attendees are invited to stay for a tour of Avenidas Rose Kleiner Center located next door. This is a state-of-the-art adult day care and day health center. It creates a comforting oasis for loved ones to have a home away from home. The tour will provide an opportunity for participants to meet with the staff and ask questions about respite care.
Secure Your Spot
Early registration is $35 per person, or $30 each if two people register together. This includes light morning refreshments, keynote presentation, choice of nine workshops, boxed lunch, affinity groups, access to sponsors and door prizes. Please contact Monica Davis, Development Coordinator at (650) 289-5445 for more information about conference registration.
About the company:
Avenidas Rose Kleiner Center is a program of the non-profit agency Avenidas. It seeks to create a community that supports and celebrates older adults and provides a wide range of support options, information and services that enable people to stay active, maintain their independence, help their aging parents or care for a spouse. Avenidas' innovative programs and compassionate staff help enrich the lives of more than 6,500 mature adults and their families each year. Avenidas serves the mid-Peninsula communities of Palo Alto, East Palo Alto, Stanford, Menlo Park, Los Altos, Los Altos Hills, Atherton, Portola Valley, Woodside and Mountain View. For more information, please visit http://www.avenidas.org.