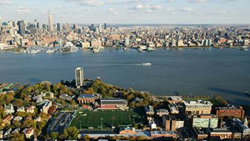 Each year, Stevens graduates secure impressive employment outcomes due to their well-rounded, broad-based education that produces high potential employees for future leadership roles and long-term value.
Hoboken, NJ (PRWEB) August 09, 2014
Stevens Institute of Technology has been ranked 15th in the nation for "Best Career Services" by The Princeton Review in the 2015 edition of "The Best 379 Colleges."
The recognition follows a very strong report that shows a steady trend of employment for Stevens graduates, as reported in June by the Office of Career Development. At commencement, 78 percent of this year's graduates had finalized post-graduation plans: 64 percent were entering the workforce, 14 percent were pursuing advanced degrees, 2 percent planned to enter the military and 5 percent returned to their home countries. An impressive 49 percent of those accepting employment chose from more than one job offer.
According to Lynn Insley, director of the Office of Career Development, the continued recognition by The Princeton Review is a prestigious honor that acknowledges the extraordinary efforts made by the university to prepare Stevens students for post-graduation success.
"Each year, Stevens graduates secure impressive employment outcomes due to their well-rounded, broad-based education that produces high potential employees for future leadership roles and long-term value. It is our privilege to serve Stevens students," Insley says.
The Stevens Office of Career Development supports students through career exploration programs, experiential education opportunities, individualized guidance, career planning workshops, corporate site visits, and a variety of on-campus recruitment efforts. The office maintains strong relationships with leading corporate, government and nonprofit employers, continually supplying top talent to join their ranks.
Located minutes from Manhattan, Stevens students have access to a wide range of opportunities to gain meaningful work experiences that help build their resumes and set them apart to future employers. For this, and many other reasons, Stevens' hometown of Hoboken received high marks by The Princeton Review, ranking 14th as best college town in the nation.
Only about 15 percent of America's 2,500 four-year colleges and only four colleges outside the United States are profiled in the book, which is The Princeton Review's flagship college guide. It includes detailed profiles of the colleges with rating scores for all schools in eight categories, plus ranking lists based on The Princeton Review's surveys of 130,000 students attending the colleges.
Says Rob Franek, The Princeton Review's senior vice president and publisher and author of "The Best 379 Colleges," "Stevens offers outstanding academics, which is the chief reason we selected it for the book. We base our choices primarily on data we obtain in our annual surveys of administrators at these schools and at hundreds of other colleges."
About Stevens Institute of Technology
Stevens Institute of Technology, The Innovation University®, is a premier, private research university situated in Hoboken, N.J. overlooking the Manhattan skyline. Founded in 1870, technological innovation has been the hallmark and legacy of Stevens' education and research programs for more than 140 years. Within the university's three schools and one college, more than 6,100 undergraduate and graduate students collaborate with more than 350 faculty members in an interdisciplinary, student-centric, entrepreneurial environment to advance the frontiers of science and leverage technology to confront global challenges. Stevens is home to three national research centers of excellence, as well as joint research programs focused on critical industries such as healthcare, energy, finance, defense and STEM education and coastal sustainability. The university is consistently ranked among the nation's elite for return on investment for students, career services programs, and mid-career salaries of alumni. Stevens is in the midst of implementing a 10-year strategic plan, The Future. Ours to Create., designed to further extend the Stevens legacy to create a forward-looking and far-reaching institution with global impact.