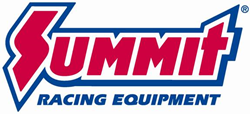 Tallmadge, OH (PRWEB) August 21, 2014
Cost-effective insurance against scratched paint and a mud-filled interior. Pacer Performance Flexy Flares offer protection from the mud, rocks, and water that get flung off spinning tires. Available in widths that extend several inches from the body, these flares are essential for trucks, SUVs, or Jeeps equipped with oversized tires or a lift kit. They're also ideal for trailers with inadequate wheel coverage.
The flares are made from a synthetic rubber that won't crack or peel, even in cold climates. They have a built-in steel-reinforced curvature, which means they'll retain shape and won't distort after installation.
Pacer Performance Flexy Flares come in universal-fit rolls and in custom-fit sets for late-model domestic trucks and SUVs. Depending on application, drilling of the inner fender liner or vehicle body may be required. Full-Coverage, No-Lip, Standard, and Heavy-Duty styles are available.
SEE PACER PERFORMANCE FLEXY FLARES AT SUMMIT RACING.
Summit Racing Equipment
http://www.SummitRacing.com
1-800-230-3030