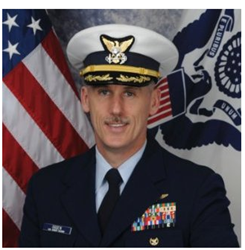 We are very pleased to bring Captain Ogden's impressive security and operational experience to our Executive Team.
Orchard Park, New York, USA (PRWEB) August 11, 2014
Accipiter Radar Corporation is proud to announce the appointment of Captain Jeffrey Ogden as Vice President of Homeland Security and Safety Programs.
A Senior Executive with extensive aviation, maritime security and environmental response expertise, Captain Ogden brings his professionalism as a leader and federal officer to the Accipiter team. His immediate focus will be the strategic growth of Accipiter's Homeland Security sector with an emphasis on border, port, maritime and law enforcement surveillance-to-intelligence (S2I) applications.
With over 30 years of experience in the US Coast Guard, most recently as Sector Commander Detroit, Captain Ogden's management and operational experience with both civilian and military personnel in complex and demanding environments will greatly contribute to Accipiter's growth.
"We are very pleased to bring Captain Ogden's impressive security and operational experience to our Executive Team." noted Dr. Tim J. Nohara, Accipiter President and CEO. "He will help us to quickly expand our extensive border security initiatives on both the U.S.-Mexico and U.S.-Canada borders, to become the North American leader in radar security applications."
Captain Ogden will be responsible for the continued strategic development of Accipiter's Security sector utilizing his understanding of homeland security challenges and his ability to craft innovative radar-centric solutions to address these operational challenges.
About Accipiter Radar
Accipiter Radar is a North American company that develops, sells, and operates high-performance radar and sensor information networks engineered to monitor the environment and to characterize the behaviour of targets such as small vessels, low flying aircraft, vehicles and birds, as well as distributed phenomenon such as weather, waves and snow/ice. The result is enhanced wide-area safety and security through unprecedented domain awareness for 21st century applications including homeland security, law enforcement, critical infrastructure protection, bird strike prevention and environmental protection. Accipiter Radar Technologies Inc. of Niagara, Ontario Canada and Accipiter Radar Corporation of Orchard Park, New York, USA are dedicated to "targeting a safer world" and have won the business of all levels of government in North America, as well as major corporations and governments in various parts of the world.
For more information visit http://www.accipiterradar.com
Or contact:
Mr. Simon Jerome, VP of Sales and Marketing
Accipiter Radar
info(at)accipiterradar(dot)com
http://www.accipiterradar.com