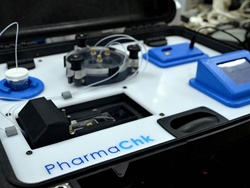 Helping to ensure patient access to good quality drugs—including those for used for neonatal care, to fight infectious diseases or to maintain good maternal health—is a leading priority for USP.
Rockville, MD (PRWEB) August 07, 2014
With the potential to revolutionize how medicines regulators, customs agents, procurement agencies, warehouse personnel, health facilities, and other providers throughout the world detect poor-quality medicines, a new portable device called PharmaChk will be supported with a $2 million transition-to-scale grant from Saving Lives at Birth: A Grand Challenge for Development. The funding will help further PharmaChk's development and bring it closer to commercial production and availability.
"The toll that poor-quality medicines take on global public health—particularly among the most vulnerable populations in the developing world—is staggering, with 99% of all maternal deaths occurring in developing countries," said Ronald T. Piervincenzi, Ph.D., chief executive officer of the U.S. Pharmacopeial Convention (USP). "Helping to ensure patient access to good quality drugs—including those for used for neonatal care, to fight infectious diseases or to maintain good maternal health—is a leading priority for USP."
Portable and easy-to-use, PharmaChk is being developed in conjunction with researchers at Boston University (BU) to detect and quantify active ingredients in medicines. The ability to screen for potential medicines quality problems can be a tremendous benefit to healthcare personnel treating patients and to regulators and health program officials responsible for tracking and ensuring the quality of their medicines. This holds especially true in Sub-Saharan Africa and in Asia where national borders are often porous and tracking the flow of medicines from country to country can be extremely challenging.
According to Patrick Lukulay, Ph.D., USP's vice president of global health impact programs and director of the Promoting the Quality of Medicines (PQM) program funded by the U.S. Agency for International Development (USAID), "Having the appropriate amount of an active pharmaceutical ingredient is key for any medicine to be effective. A poor-quality medicine can be one without enough active ingredient, which can lead to both preventable disease progression and to the development of drug resistance in patients and the community. In other cases, a medicine may have the correct amount of active ingredient but be of poor quality—for example not dissolve properly or contain impurities—due to poor manufacturing or storage practices, which can also compromise the medicine's ability to bring a clinical benefit to the patient."
PharmaChk—which was named as one of Scientific American magazine's "World Changing Ideas of 2013"—has been in development by scientists from Boston University (BU), with support from the PQM program and seed funding from the Saving Lives at Birth partnership. Building country capacity to address public health concerns posed by counterfeit and substandard-quality medicines has been a long-standing goal of PQM, a 10-year program managed by the USAID Office of Health Systems of the Bureau for Global Health, with the aim of strengthening country health systems and improving health outcomes. A scientific organization dedicated to creating quality standards for medicines, food ingredients and dietary supplements, USP works collaboratively with USAID to implement PQM.
Launched in 2011, the Saving Lives at Birth partnership includes USAID, the Government of Norway, the Bill & Melinda Gates Foundation, Grand Challenges Canada (funded by the Government of Canada), and the U.K's Department for International Development. Saving Lives at Birth is a global call for groundbreaking, scalable solutions to prevent infant and maternal deaths around the time of birth and supports a wide variety of work across maternal and neonatal health, family planning, nutrition and HIV.
While other methods to screen for substandard or counterfeit products in the field are currently available, they are limited in their ability to quickly and accurately quantify the actual amount of active ingredient in a sample as well as to determine how quickly that active ingredient dissolves so it can work in the body as intended.
This past spring, the first pilot study using PharmaChk on medicine samples was conducted at USP's Center for Pharmaceutical Advancement and Training (CePAT) in Accra, Ghana. USP opened CePAT in May 2013 to help expand the number of trained experts and available tools to combat substandard and counterfeit medicines that threaten nations in Sub-Saharan Africa.
The pilot study was conducted of samples of the antimalarial medicine artesunate, collected from three main medicine sources in Accra—public hospital/clinics, private retail/wholesale pharmacies, and informal outlets. USP and BU scientists are excited about early results from the pilot study, and plans are underway to further refine PharmaChk and to use the device to test samples of other medicines collected from the field.