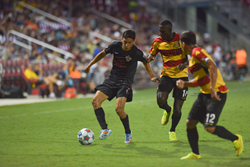 "We're aware of their threats as I'm sure they're aware of ours. We'll have to go there and apply ourselves in the right manner for the full 95 or so minutes with our best foot forward and play with better control." - Tampa Bay Rowdie Coach Ricky Hill
New York, NY (PRWEB) August 07, 2014
San Antonio Scorpions continue to fight to stay on top in the North American Soccer League's (NASL) #Fight4Fall - and earn the automatic berth into The Championship - when they face visiting Indy Eleven at Toyota Park in on Saturday, August 9, at 7:30 pm CT (8:30 pm ET). Soccer fans can tune in to http://www.NASLlive.com to watch all five matches this Saturday in Atlanta, Carolina, Minnesota, Ottawa and San Antonio.
San Antonio and Indy have met just once this past Spring Season when the Scorpions executed a 2-1 victory on the road against Indy Eleven on May 31
The Scorpions, who possess an unbeaten home streak this Fall are coming off their first defeat of the campaign, dropping a 3-1 decision to host FC Edmonton last Saturday. Meanwhile, Indy will be playing its second game in four days after holding the Fort Lauderdale Strikers to a scoreless draw at home on Wednesday.
"Another quick turnaround for our guys, but I think the momentum we'll take from Wednesday's game will serve us well heading into a tough game in San Antonio," said Indy Eleven coach Juergen Sommer. "We are turning things around on the defensive side of the ball - and that goes for our players all over the field, not just the backline."
Saturday's NASL Fall Week 5 action kicks off at 7 pm ET in Canada when Ottawa Fury FC return home with hopes to end its five-game winless streak, as they take on Fort Lauderdale Strikers at TD Place.
Strikers are on the road for their second game in four days, coming off that scoreless draw against host Indy Eleven. Meanwhile, Fury are lost 2-1 on the road to the NASL Spring Champion Minnesota United FC last Saturday.
"We've been playing a lot of games on the road and it is great to come back home and play in front of our fans," said Fury FC coach Marc Dos Santos. "Saturday is an important match for us. I'm sure we will use all the energy from our supporters and deliver the performance they all deserve."
This will be the first meeting between the two sides in Canada. Previously, the two sides matched up down south on April 12th during the Spring Season opener at Lockhart Stadium when goals from defender Rafael Alves and forward Darnell King gave the Strikers a 2-0 win over visiting Fury.
Saturday's NASL encounters continue when the current third-place holders in the NASL Combined Table, New York Cosmos, visit sixth-place Atlanta Silverbacks in a rematch of last year's NASL Soccer Bowl (won by New York) at Silverbacks Park at 7:30 pm ET.
Playing their second match in four days, the Cosmos are coming off a scoreless draw against visiting FC Edmonton on Wednesday, while the Silverbacks earned a 4-2 win on the road against Indy Eleven last Saturday. New York has not lost to Atlanta in four overall matches (including the 2013 Soccer Bowl).
Silverbacks coach Jason Smith comments on his team's upcoming encounter against the Cosmos: "Even in the games they have lost, I think they dominated the possession. They look good with the ball at their feet, and it's possible that they have just been a bit unlucky not to finish some of their chances. We're going to try and exploit a few of the weaknesses that I noticed on film already, but there is no doubt that they're a well-organized team. We'll be prepared coming into Saturday's game, and we look forward to minimizing their strengths and exploiting their weaknesses."
Continuing Week 5 action, two contenders in the NASL Combined Table for the race to 'The Championship' face off as Carolina RailHawks host Tampa Bay Rowdies at WakeMed Soccer Park in the NASL's 'Game of the Week' live on ESPN3 at 7:30 pm ET.
RailHawks, who are currently fourth in the Combined Standings, ended their seven-game road winless streak with a 1-0 victory over New York Cosmos last week. Meanwhile, Tampa Bay, who is four points behind Carolina for the final berth to 'The Championship', dropped a 1-0 decision to host Fort Lauderdale Strikers during the 'Florida Derby.'
RailHawks have not lost to the Rowdies in the seven NASL games at WakeMed Soccer Park, including the last meeting this past Spring, where the hosts earned a 2-0 victory on May 31.
"WakeMed Soccer Park remains a formidable place to go to," said Rowdies coach Ricky Hill. "They've got a great record there in the league and in the Open Cup because they're a very strong side. Having said that, it's always an exciting game against Carolina.
"We're aware of their threats as I'm sure they're aware of ours. We'll have to go there and apply ourselves in the right manner for the full 95 or so minutes with our best foot forward and play with better control."
Rounding out Week 5 on Saturday evening will be NASL Spring Champion Minnesota United FC, who already secured its berth into 'The Championship', aim to extend its current eight-game unbeaten streak when it welcomes FC Edmonton at NSC Stadium at 7 pm CT (8 pm ET).
United, who is also the only remaining unbeaten team in the NASL Fall Season, have not lost in its last seven home encounters after posting a 2-1 victory over visiting Ottawa Fury FC last week.
"Edmonton has always been a physical, strong, solid team," said United coach Manny Lagos. "I think defensively they've been one of the best teams in the league over the last couple of years. We know they're going to be organized, we know they're going to present a lot of good discipline to their game, so it's important for us to be ready to be sharp and play well on both sides of the ball."
Meanwhile, Edmonton, who is playing its second game in four days, is coming off a scoreless draw on the road against New York Cosmos on Wednesday. The Eddies have yet to win in their last seven visits to Minnesota, including the most recent one this past Spring, when they dropped a 1-0 decision to the host at NSC Stadium on April 26.
"We are heading into a really difficult venue against top quality opposition," said FC Edmonton coach Colin Miller. "Manny and his staff have done a terrific job with the team, and we will have to be at our best on Saturday. The team is really excited, they know that they put in a good shift on Wednesday night and are looking forward to playing the Spring Champions this weekend."
Soccer fans around the world will also be able to 'Watch Every Match Live' - all 90 NASL matches -- throughout the 2014 North American Soccer League season, including all the Week 5 matches on http://www.NASLLive.com.
NASL Fall Season Week 5 Schedule/Results­ (All kickoff times US EST)
Wednesday, August 6
Indy Eleven 0
Fort Lauderdale Strikers 0
New York Cosmos 0
FC Edmonton 0
Saturday, August 9
Ottawa Fury FC vs. Fort Lauderdale Strikers
TD Place; Ottawa, Ontario 7 pm
Atlanta Silverbacks vs. New York Cosmos
Atlanta Silverbacks Park; Atlanta, Ga. 7:30 pm
Carolina RailHawks vs. Tampa Bay Rowdies
WakeMed Soccer Park; Cary, N.C. 7:30 pm
Minnesota United FC vs. FC Edmonton
NSC Stadium; Blaine, Minn. 8 pm ET/7 pm CT
San Antonio Scorpions vs. Indy Eleven
Toyota Field; San Antonio, Tex. 8:30pm ET/7:30 pm CT