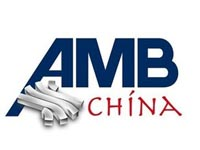 Zhengzhou, China (PRWEB) August 09, 2014
According to iAbrasive latest news, as one of the five global machine tool exhibitions, the largest and most professional machine tool exhibition in Europe AMB China 2014 will be held from October 13th to 15th, 2014 at Nanjing International Expo Center. AMB China 2014 will serve as the international platform for the industry in China's strongest manufacturing region. Nearly 400 exhibitors will present at the exhibition, covering a total of 30,000 square meters.
Business Giants Present
In previous AMB China site, famous exhibitors have increased considerable popularity and public praise for the exhibition, based on which AMB China 2014 is to reach a new height in famous brand engagement and product range: besides the famous machine tool company EMAG in Germany, DMG MORI and INDEX, renowned cutter manufacturer Walter, LMT Tool, Guehring, Horn, Amaya and the biggest robot manufacturer in Germany KUKA will be present at the grand exhibition. Participating countries include Germany, France, America, Swiss, Austria, Israel, China-Taiwan and many other regions.
Hot Spots
China Metal Working & Forming Exhibition follows Stuttgart metal processing tradition and positioning, and will design product exhibition area for different buyers and visitors. Up till now, the exhibition has the following topics:
Factory Automation & Robot Theme Exhibition
High-end Stock Equipment Recycling Subject
China Aeronautics and Astronautics Manufacturing Technology Subject
Each theme exhibition will focus on the high and new technology as well as advanced idea. The renowned exhibitor KUKA will be engaged in automation equipment and smart manufacturing subjects, presenting the most effective solution to tens of thousands of visitors.
Visitors Recruitment in Full Swing
The sponsor has invited various parallel fields including machine tool, auto parts, rail transportation, new energy, Aeronautics and Astronautics, shipbuilding, communication, etc. By visiting Jiangsu industrial parks and market campaign, the exhibition is likely to recruit much more visitors than those of last year.
The official site of AMB China is available at: http://www.ambchina.com/English/Default.aspx.
For more information about latest exhibitions in abrasives industry, please visit: http://www.iabrasive.com/articles/category/trade-show