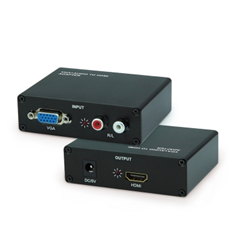 (PRWEB) August 11, 2014
Recently, Hiconn Electronics, the well-known brand of HDMI products, has released a new selection of VGA+R/L Audio to HDMI Converters. As a special offer for the new year, the company has also announced that all these new items are available at discounted rates, up to 30% off.
Hiconn Electronics's VGA+R/L Audio to HDMI Converters come in several patterns. According to the CEO of the company, plenty of customers are impressed with their good shape and great performance. The new converter range is specially designed to the huge demand on the market.
Here is some detailed description of the company's brand new Converters:
--Easy to use, installs in seconds, no settings and it is a resolution pass-through converter
--Purely for conversion between video formats, but not convert the input/output video resolutions
--Aluminum shell
--Compliant with HDMI 1.3
--VGA input: 640*480@60Hz, 800*600@60Hz, 1024*768@60Hz, 1280*720@60Hz, 1280*768@60Hz, 1280*800@60Hz, 1280*1024@60Hz, 1360*768@60Hz, 1600*1200@60Hz, 1920*1080@60Hz, 1920*1200@60Hz
--Audio for input – 3.5mm
--HDMI output – up to 1080P
--Coming with certified 5V 1A power supply
--Retail paper box
"What's more, all new and old clients can enjoy the discounts before Sptember 28, 2014. Not only do we have the best HDMI products, we also have our own designers. Our VGA+R/L Audio to HDMI Converters have great performance; they are all made from quality materials," the CEO says.
About Hiconn Electronics
Hiconn Electronics (Shenzhen Hiconn Electronics Co. Ltd.) is devoted to designing and manufacturing a wide range of connection cables and customized cable assemblies, offering many HDMI cables, VGA cables, SATA cables, USB cables, 1394 cables, DVI cables, SCSI (Small Computer System Interface) and more. For more information, please visit http://www.hiconn.net/.
Contact Person: James Yin (Sales Director)
Company Name: Shenzhen Hiconn Electronics Co., Ltd.