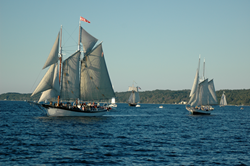 I think Traverse City is actually poised to be as big a maritime destination as Mystic, Connecticut – we just have to do more to capitalize on what we have.
Traverse City, MI (PRWEB) August 13, 2014
The Michigan Schooner Festival returns to the Lake Michigan resort community of Traverse City the weekend of Sept,. 19-21, according to Traverse City Tourism.
Visitors will be able to see, tour and sail in six stately sailing vessels during the 2014 festival, a three-day celebration of Great Lakes "tall ships."
"It's going to be great," says Cindy Ruzak of the nonprofit Maritime Heritage Alliance, which organized the first Michigan Schooner Festival in 2009. "I think Traverse City is actually poised to be as big a maritime destination as Mystic, Connecticut – we just have to do more to capitalize on what we have."
Four of Traverse City's own tall ships -- Manitou, Inland Seas, Madeline and Champion -- will be on hand for the festival, as well as two visiting ships: the three-masted schooner Denis Sullivan of Milwaukee and the replica sloop Friends Good Will from South Haven. All six will sail down West Grand Traverse Bay to the city's waterfront Friday afternoon in the traditional "Grand Parade of Sail" that opens the festival.
From then on, it's a steady two days of deck tours, sailing cruises, performances, films, lectures and exhibits related to the maritime history of the area, including:

A unique multimedia performance called STORM on Saturday evening that blends video, narration and music to dramatize the weather that made Great Lakes sailing some of the world's most perilous
Late-morning "Pirate Chases" for children between the cutter Champion and the sloop Friends Good Will, on all three days of the festival
Pirate Pancake Breakfasts on Saturday and Sunday mornings
A "Soup, Suds and Sail" pub crawl through downtown Traverse City
Talks by such experts as Loyola University historian Ted Karamanski (on the role of tall ships in Great Lakes history), Northwestern Michigan College archaeologist Mark Holley (on underwater archaeology) and journalist/diver Ric Mixter (on diving on Great Lakes shipwrecks).
A nautical concert (featuring Wagner's "Flying Dutchman" overture) by the Traverse Symphony Orchestra, and an original performance of "The Myth of November" at the Old Town Playhouse
Maritime music by singer/songwriter Tom Kastle at Clinch Park
Downtown Pirate Treasure Hunts on Friday and Saturday mornings
Among the many pleasant surprises encountered by new visitors to this northern Michigan town is the sight of graceful schooners, sloops and other sailing vessels gliding majestically across Grand Traverse Bay.
Though it's hundreds of miles from the ocean, Traverse City has always been a seafaring community. The town is still home to the Great Lakes Maritime Academy -- the only school in the nation that certifies deck and engineering officers for both saltwater and freshwater vessels -- but it's the "tall ships" that enchant visitors and have become the community's unofficial mascots.
In fact, Traverse City is home to more of these imposing sailing vessels than any other port in Michigan. And although they no longer haul lumber or carry the mail, the tall ships of Traverse City play a growing role in the community's economic, educational and cultural life.
Some are working replicas of 18th and 19th century ships, available for dockside tours and (if you're lucky enough to be in the right place at the right time) a free ride around the bay. Others offer excursion cruises across the bay each afternoon, and some even serve as floating science classrooms where students learn about the area's aquatic environment and its maritime history.
Traverse City Tourism, formerly known as the Traverse City Convention & Visitors Bureau, is the region's primary destination marketing organization.