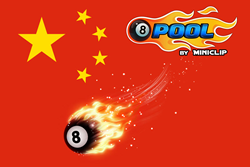 This release supports our core strategy of pushing into new global games markets in 2014 and beyond.
Neuchâtel, Switzerland (PRWEB UK) 13 August 2014
Miniclip are set to launch their flagship game 8 Ball Pool™ in China. The game, which has been a major cross-platform hit for Miniclip, has been fully localised for a Chinese market with new features and mechanics.
Miniclip, a leading digital games company with over 70 million monthly active users, has been working with its Chinese partner iDreamSky to bring the hugely popular 8 Ball Pool™ game to one of the world's most lucrative and fastest-growing markets.
Miniclip are to launch 8 Ball Pool™ later this August on China's largest Android platforms, including Tencent, Qihoo 360 and Wandoujia.
"We're delighted to announce that 8 Ball Pool™ - the world's largest multiplayer pool game - is being released in China," said Miniclip CEO Rob Small. "This release supports our core strategy of pushing into new global games markets in 2014 and beyond."
8 Ball Pool™ is already enjoyed by millions of users in the West, where it boasts 1 billion monthly gameplays across mobile, web and social platforms. The game has been given an overhaul for a Chinese audience, with the introduction of new features, controls and game mechanics as well as translation into Chinese.
One of the major new features is the introduction of a character system: players can now choose from one of four characters, each with their own boosts such as Experience Points multipliers or an increased chance of getting the break-off shot.
Cues in the game, as well as having cosmetic differences, now have different stats relating to the length of their aim-line, and how much power and spin can be placed on the cueball.
The game also incorporates the leaderboard feature recently introduced into the Western version of 8 Ball Pool™, allowing players to compete against their friends and other players all over the world to win in-game prizes and awards.
ABOUT MINICLIP
Miniclip is a global leader in digital games. The company develops, publishes and distributes highly engaging games to an audience of 70 million monthly active users, across mobile, social and online platforms.
Founded in 2001, the company has successfully grown a huge organic global audience in over 195 countries and across six continents. Miniclip has a unique understanding of the digital games space and has developed a strong portfolio of over 45 high-quality mobile games, extensive worldwide distribution and an internationally recognised brand name.
Leading franchises include 8 Ball Pool™, Soccer Stars™ and Rail Rush™.
For more information, visit http://corporate.miniclip.com.