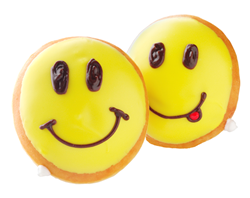 At Krispy Kreme, smiles are always on trend.
Winston Salem, NC (PRWEB) August 11, 2014
National Smile Week-- Spread the Joy with Fun Face Doughnuts
Krispy Kreme® Fun Face Doughnuts available at participating locations
In a world of hustle and bustle, work and traffic, and go go go, couldn't everyone use a reason to smile? August 11-17, 2014 is National Smile Week and Krispy Kreme® Fun Face Doughnuts are the perfect smile-inducing treat to see, eat and share. Available for a limited time only at participating Krispy Kreme US and Canadian locations. While supplies last.
Krispy Kreme Fun Face Doughnuts are filled with a delicious Kreme™ filling, topped with joyful yellow icing, and decorated with various fun expressions made of chocolate icing.
At Krispy Kreme, smiles are always on trend. Follow @KrispyKreme throughout National Smile Week on Instagram, Twitter and Facebook to see and share the smile-inducing fun of #ManicMonday, #TransformationTuesday, #Humpday, and #TBT.
Get connected to Krispy Kreme and stay up to date on the latest offerings and promotions at KrispyKreme.com, http://www.hotlightapp.com, foursquare and KrispyKremeDoughnuts on YouTube.
About Krispy Kreme:
Krispy Kreme (NYSE: KKD) is an international retailer of premium-quality sweet treats, including its signature Original Glazed® doughnut. Headquartered in Winston-Salem, N.C., the Company has offered the highest-quality doughnuts and great-tasting coffee since it was founded in 1937. Krispy Kreme is proud of its Fundraising program, which for decades has helped non-profit organizations raise millions of dollars in needed funds. Today, Krispy Kreme can be found in over 850 locations in more than 20 countries around the world. Connect with Krispy Kreme at http://www.krispykreme.com.
# # #
Contact: Lafeea Watson, PR and Media Manager
Phone: 336-726-8878
Email: lwatson(at)krispykreme(dot)com