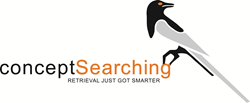 Based on our years of experience, we have found that clients not only need, but want, a trusted source of information to inform and educate them on new technologies, particularly in the Microsoft environment.
McLean, VA, US and Stevenage, UK (PRWEB UK) 18 August 2014
Concept Searching, currently the only vendor providing natively integrated enterprise-wide information governance solutions for SharePoint on-premise, Office 365, and OneDrive for Business, is pleased to announce availability of an online resource dedicated to Office 365 and OneDrive for Business technology and business topics.
The online site is being launched to assist organizations in understanding auto-classification and taxonomy solutions. The site will also address the impact of information governance and compliance issues in a cloud environment, and how to integrate disparate platforms and locations into a single enterprise metadata repository. Integrated applications driven by the technologies include search, content management, data privacy, records management, migration, eDiscovery, litigation support, FOIA, collaboration, social tagging, and text analytics.
The online information source currently consolidates webinars, 'How To' product webinars, articles, conceptClassifier for Office 365 and conceptClassifier for OneDrive for Business product information, demos, business and technical webcasts, white papers, presentations, and Concept Searching's highly read Office 365 blogs in one place. This provides a venue for organizations that are seeking to purchase and implement Office 365, and offers a single source of information, to share knowledge and provide educational material.
The availability of information at a single source removes the challenge of finding pertinent information. The site page will be continually updated and expanded to include third party sources of content. Concept Searching, a participant in the Business-Critical SharePoint Program, will populate the site page with additional information provided by Microsoft. Third party sources are encouraged to submit material for review and posting. Submission is available via the site page.
Concept Searching has found that the majority of organizations do not understand metadata generation, auto-classification, and taxonomies. The same on-premise challenges for information governance and compliance also apply to the cloud and hybrid environments. This represents not only a technological challenge but is closely tied to business objectives and the reduction of organizational risk. Concept Searching recognized that other vendors and service providers also have information to share on their specific area of expertise.
"Based on our years of experience, we have found that clients not only need, but want, a trusted source of information to inform and educate them on new technologies, particularly in the Microsoft environment. For many, Office 365, and now OneDrive for Business, presents a new paradigm that poses great benefits as well as challenges," said Martin Garland, President. "We hope this online resource will encourage third party experts and organizations that currently use the products to contribute and participate, resulting in increased value and dissemination of information to our readers," he concluded.
To review the guidelines and overview, visit this site page. To submit articles of interest please visit this site page.
Follow Concept Searching: http://www.twitter.com/conceptsearch
About Concept Searching
Concept Searching is the industry leader specializing in semantic metadata generation, auto-classification, and taxonomy management. Platform agnostic, Concept Searching also has a Microsoft Gold Application Development competency, and offers a complete suite of SharePoint and Office 365 solutions. The award winning technologies integrated with Concept Searching's Smart Content Framework™ encompass the entire portfolio of unstructured information assets in on-premise, cloud, or hybrid environments. Clients have deployed the intelligent metadata enabled solutions to improve search, records management, identification and protection of privacy data, migration, text analytics, eDiscovery, and enterprise social networking applications.
Concept Searching is headquartered in the US, with offices in the UK, Canada, and South Africa. For more information about Concept Searching's solutions and technologies visit http://www.conceptsearching.com.
All product and company names herein may be trademarks of their respective owners.