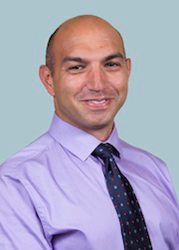 Santa Rosa, CA (PRWEB) August 13, 2014
Dr. Reza Sepehrdad is a board certified cardiologist who practices the most current, innovative treatments in cardiovascular medicine. During medical school at New York Medical College, Dr. Sepehrdad distinguished himself from his fellow classmates, earning six research awards in six years. Dr. Sepehrdad obtained his residency training from UC Davis before going on to complete fellowships in cardiovascular medicine, interventional cardiology, and vascular medicine and peripheral arterial interventions from the same school. While completing his fellowship in cardiovascular medicine, Dr. Sepehrdad worked as an Emergency Room/Urgent Care Staff Physician for the VA Northern California Health Care System.
Dr. Sepehrdad carries professional society memberships with the American College of Physicians, the American College of Cardiology, and the Society for Cardiac Angiography and Interventions. He has also written papers on a variety of medical topics for multiple respected publications such as Cardiac Interventions Today, American Journal of Medicine, Cardiology in Review, and more. Dr. Sepehrdad is fluent in English and Farsi, and is partially fluent in Spanish. In his free time, Dr. Sepehrdad enjoys exercising, cooking, and spending time with his wife and family.
Dr. Sepehrdad plays an integral role in the team of highly qualified cardiologists at FountainGrove Cardiology. Providing treatment and services for everything from cardiac catheterization to open-heart surgery, from electrophysiology to rehabilitation and prevention, this highly qualified staff maintains its commitment to deliver the most current, innovative treatment in cardiovascular medicine and the best possible patient outcomes.
Dr. Sepehrdad practices cardiology and interventional cardiology at FountainGrove Cardiology in Santa Rosa, and he is currently accepting new patients. For more information about NCMA Cardiovascular Services, visit NCMAhealth.com. Call (707) 573-6199 to make an appointment with Dr. Sepehrdad or any other NCMA doctors at FountainGrove Cardiology.
-------
Northern California Medical Associates is Northern California's premier provider of medical and surgical care north of the Golden Gate and has been serving individuals and families since 1975. Every highly skilled professional comprising the NCMA team shares a strong commitment to preventive programs and health screenings designed to promote and maintain everyday health. NCMA has successfully built a legacy of excellence that is recognized nationwide.
###