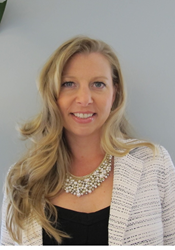 As Vice President of Corporate Development, Amy will play a vital role in role in the growth and maturation of BE.
Arlington, VA (PRWEB) August 12, 2014
Buchanan & Edwards (BE) has appointed Amy Bleken as its new Vice President of Corporate Development. Supporting BE's continued growth, Bleken will oversee BE's business development accounts, proposal management team, and sales and marketing departments.
Prior to joining BE, Bleken served for 14 years at CGI Group Inc. (formerly Stanley Associates, Inc.) as Vice President of the Mission System Group and Senior Vice President of the Defense Agency Programs Business Unit. Bleken also spent one year as an Information Technology (IT) and business process services consultant after leaving CGI.
"As Vice President of Corporate Development, Amy will play a vital role in role in the growth and maturation of BE," said Brian Karlisch, CEO and Co-founder of BE. "I am confident that Amy will continue to focus on our customers, employees, and partners and ensuring exceptional delivery while advancing and growing the business. We are delighted to have Amy on board to support our continuous expansion in upcoming years."
Bleken has extensive experience in providing IT consulting and program management services to the federal sector. Bleken served in the U.S. Army for eight years as a Logistical Supply Specialist, using her GI Bill benefits to attend community college neighboring her various duty stations. After her service term, Bleken received a BS in Business Administration and Management with a minor in Computer Science and a MS in Management Information Systems from Strayer University in Virginia. Bleken also obtained a certificate of Leadership Best Practices from Harvard Business School.
###
About Buchanan & Edwards:
Buchanan & Edwards is a trusted advisor to Federal, state, and local governments, providing information technology support and innovative solutions that help agencies succeed in the ever changing government and technology landscapes. Since 1998, BE has been dedicated to delivering on our customers' missions by driving innovation, reducing cost, implementing automation and enabling information sharing so our clients can better serve the American citizen.
BE employs a disciplined management approach that has been independently appraised as compliant with CMMI Level 3 processes and ISO 9001:2008 standards. For additional information, please visit our website at http://www.buchanan-edwards.com.