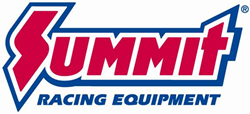 Tallmadge, OH (PRWEB) August 12, 2014
Rutledge Wood's latest project with Summit Racing Equipment, a 1953 Plymouth Suburban station wagon, made its debut during the 2014 Hot Rod Magazine Power Tour this past June. And now, enthusiasts can duplicate Rutledge's car with the Rutledge Wood Plymouth Suburban Combos now available at SummitRacing.com.
The 11 combos group the components used to build the Plymouth into affordable chunks, allowing you to duplicate the car in stages or pick and choose the combos you want to use:
The Engine and Fuel Injection Combo includes a BluePrint Engines Chrysler 408 crate engine with FAST fuel injection, a Be Cool cooling module, a Moroso oil pan, a March serpentine accessory drive system, and Summit Racing blockhugger headers.
The Transmission and Driveline Combo features an American Powertrain Tremec T-56 transmission and hydraulic throwout bearing kit, a Quicktime bellhousing, McLeod clutch kit, and a Heidts rear axle housing with Eaton, Motive Gear, Strange, and Summit Racing components.
The Chassis and Driveline Combo includes Heidts Mustang II front and four-link rear suspension kits, AFCO rear coil-over shocks, a Prothane transmission mount, and Energy Suspension body mount bushings.
The Brake Combo includes Wilwood rear disc brakes, proportioning valve and master cylinder, Summit Racing power brake booster, and Russell brake fittings.
The Steering Column Combo features Flaming River's steering column, column mounts, and steering shaft, plus a Billet Specialties Street wheel.
The Climate Control Combo contains all Vintage Air components, centered around a Gen-II Super Cool climate control system.
The Electrical Systems Combo includes a Painless Performance 28-circuit wiring harness, an Odyssey battery, Electric-Life power windows, a Summit Racing high-torque starter, and Summit Racing battery cables.
The remaining combos cover interior accessories, engine dress-up, oil and fluids, and other parts needed to finish the Suburban.
You can see photos and video of the finished car, and also read about its debut at the Hot Rod Power Tour at Summit Racing's OnAllCylinders blog.
SEE THE RUTLEDGE WOOD 1953 PLYMOUTH SUBURBAN COMBOS AT SUMMIT RACING.
Summit Racing Equipment
http://www.SummitRacing.com
1-800-230-3030