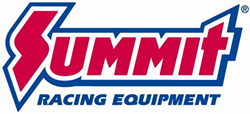 Tallmadge, OH (PRWEB) August 13, 2014
The Discovery Channel discovered a runaway hit with its new show Fat 'N Furious: Rolling Thunder. Summit Racing has been providing product and technical support for the series and has created Fat 'N Furious Parts Combos for some of Christmas Automotive's top projects. Here are the newest combos available:
Drag racers were drawn to Episode Three's stripped-down, purpose-built Chevy Vega race car. Now, they can learn what parts Tommy Christmas used to complete the transformation.
The big-winged star of Episode Four was a 1970 Plymouth Superbird. The car got a complete makeover underneath its vibrant blue hood. Mopar fans can find out what went into the tarmac-shredding monster in three Parts Combos.
A 1970s-era Ford Maverick got the Shelby treatment in Episode Five. But the car got more than just a fancy paint job—you can see exactly what engine and transmission upgrades were done to make the Maverick a potent street machine.
Episode Six saw the Christmas Automotive guys turn their talents to a Plymouth Barracuda. They went to work upgrading its ignition and cooling system to give the classic musclecar 21st-century reliability. Fans who'd like to do the same to their cars can use these new combos as starting points.
Episodes of Fat 'N Furious: Rolling Thunder air weekly, Monday nights on the Discovery Channel. You can learn more about the show and the builds on the Discovery Channel website.
SEE all the Fat 'n Furious Car Combos at SummitRacing.Com
Summit Racing Equipment
http://www.SummitRacing.com
1-800-230-3030