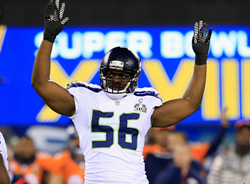 Santa Clarita, CA (PRWEB) August 12, 2014
After winning the Best in Biz award for the third year in a row, VIIVIIVII has scored another victory. Now officially partnered with Cliff Avril of the Seattle Seahawks, VIIVIIVII is looking forward to seeing the partnership blossom into something grand.
Cliff Avril, star defensive lineman for the Seattle Seahawks is best known for recording the fastest score in NFL Super Bowl History when he scored a safety only twelve seconds after kickoff. VIIVIIVII is excited to bring that level of championship and talent on board, with the horizon looking bright for the partnership.
In reaction to the partnership, C.E.O. and founder of VIIVIIVII, Ken Collis, had the following to say, "We're extremely excited to bring on such skill and champion-level talent with Cliff Avril to the team. It's an honor to have VIIVIIVII representing Super Bowl-level quality athleticism. We're looking forward to expanding his brand beyond football. We see specialized clothing lines, fitness gear, workout regimens, and more with Cliff." The coalition looks to be yet another successful move on VIIVIIVII's part, a victory to add to both Avril and VIIVIIVII's trophy case.
VIIVIIVI offers full service marketing solutions with innovative approaches to brand management, social media facilitation, product distribution and celebrity outreach. VIIVIIVII is catering to the marketing needs of both domestic and international companies. For more information, please visit http://www.viiviivii.com.