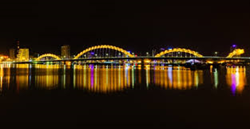 Hanoi, Vietnam (PRWEB) August 12, 2014
Established by Smile Travel Vietnam agency in 2008, Vietnamvisa.org has provided Vietnam visas on arrival to travelers. Last month, the agency introduced to customers an extra service-airport fast track service. To bring a proper service, vietnamvisa.org officially provided the airport fast track service at 3 international airports of Vietnam, including Noi Bai (Hanoi), Tan Son Nhat (Hochiminh) and Da Nang airports.
With the quick and secure services, vietnamvisa.org serves more than 200 visitors per day. It means that the number of foreigners at the airport will increase, and this leads to overloading at the immigration counters. The airport fast track service is designed to save passengers' valuable time. At the beginning period, this service was applied for 2 main airports: Noi Bai and Tan Son Nhat airports in 2 large cities such as Hanoi and Ho Chi Minh. Last week, vietnamvisa.org officially added Da Nang airport so the fast track service is now available at 3 Vietnam international airports.
"We have received positive feedback from customers about this new service. All of them are very satisfied with the convenience and on-time service, as well as friendliness of the staff," said the Chief Executive of Smile Travel Vietnam. Furthermore, Da Nang is considered as a must-visit destination whenever travelers come to Vietnam, and so, the airport fast track service is the key to help them save time for a memorable vacation," he added.
To select the airport fast track service, travelers should apply after finishing their visa application form. Even if travelers do not apply the visa service with us, they can book for the fast track service. However, they will be required to send the Vietnam visa approval letter then.
Anyone interested can contact the Customer Service Department for further details: sales(at)vietnamvisa(dot)org or call +84 988 580 614.
About Smile Travel Vietnam:
Smile Travel Vietnam has grown to be recognized as one of the leading travel agencies in Vietnam. Since 2008, the agency has been providing high quality and professional tourism services such as Vietnam visas, airfares, and tour packages.