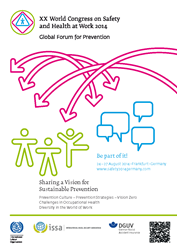 Psychosocial risks can be managed in the same, systematic way as other occupational safety and health risks.
Bilbao, Spain (PRWEB UK) 20 August 2014
The Agency will host a symposium on preventing psychosocial risks, based on its 2014–15 Healthy Workplaces Manage Stress campaign.
It will also use its place at the trade fair, which will unite over 4000 occupational safety and health (OSH) experts from around the world, to officially launch OSHwiki and demonstrate its Online interactive Risk Assessment (OiRA) tools.
Dr Christa Sedlatschek, EU-OSHA Director and chair of the symposium, said: 'We are delighted to be so actively involved in this prestigious event. The World Congress on Safety and Health at Work gives us the opportunity to showcase our work to a large audience of global OSH professionals, and staging the symposium on preventing psychosocial risks allows us to promote even further the messages of our Healthy Workplaces Manage Stress campaign: that psychosocial risks can be managed in the same, systematic way as other OSH risks.'
The official launch of OSHwiki will take place at EU-OSHA's stand on 25 August. OSHwiki will enable OSH knowledge, information and best practice to be shared in order to support government, industry and employee organisations in ensuring safety and health at the workplace. It aims to be an authoritative source of information that is easily updated, edited and translated.
Visitors to EU-OSHA's exhibition stand will be able to experiment with various OiRA tools. The OiRA tools, which are available for free online, make risk assessment quick and easy, especially for smaller organisations. The tools help organisations identify risks, take preventive action and monitor and report risks. Thirty-eight are currently available, including tools for hairdressing and road transport, and a further 30 are under development.
The stand will also host a prototype of EU-OSHA's new corporate website, which visitors can test and explore.
The Agency will also take its seat in the jury at the International Media Festival for Prevention. The festival offers an overview of films and multimedia productions from across the world and provides an opportunity for participants to present their projects to a major group of influential international safety and health professionals. This year the competition has received a record 290 submissions from 33 countries.
This year the congress has been organised by German Social Accident Insurance (DGUV) in cooperation with the International Labour Organization and the International Social Security Association, and its motto is 'Sharing a vision for sustainable prevention'. Top-class speakers will take to the stage and various symposia will be held on OSH topics that are the most important worldwide.
Notes to editors
1. The European Agency for Safety and Health at Work (EU-OSHA) contributes to making Europe a safer, healthier and more productive place to work. The Agency researches, develops and distributes reliable, balanced, and impartial safety and health information and organises pan-European awareness-raising campaigns. Set up by the European Union in 1994 and based in Bilbao, Spain, the Agency brings together representatives from the European Commission, Member State governments and employers' and workers' organisations, as well as leading experts in each of the EU Member States and beyond.
2. The World Congress on Safety and Health at Work is held in a different country every three years. The twentieth will be held in the Congress Centre of Messe Frankfurt (Germany) from 24 to 27 August 2014. EU-OSHA will be exhibiting at the associated Arbeitsschutz Aktuell trade fair from 25 to 28 August at stand 30D18 in Hall 3.0 and is coordinating symposium S17, 'Prevention of psychosocial risks', on 26 August 2014 at 16h00–18h00. OSHwiki will be launched at EU-OSHA's stand on 25 August at 15h30.