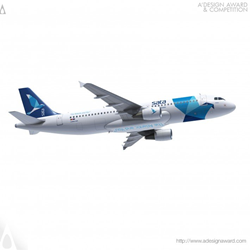 Como, Italy (PRWEB) August 12, 2014
A' Design Award and Competition is pleased to inform that the brand identity project "SATA | BIA - Blue Islands Açor" by ivity for SATA Airlines has been announced as a winner of the Platinum A' Design Award in Graphics and Visual Communication Design Competition.
About "SATA | BIA - Blue Islands Açor"
Ivity, the creative design team behind the award winning brand identity design work "SATA | BIA - Blue Islands Açor" explained, "The BIA is a local-bird symbol of the Atlantic Sky, which flies over "thoughts and dreams" over countries, it is a "pilot of nature" which transports people, memories, business and companies. At SATA, BIA will always symbolize the union of the nine islands of the archipelago in the Atlantic: it will take the name of the Azores to the world and bring the world to the Azores. The "BIA – Blue Islands Azores" symbol is indeed a new perspective on the açor bird, inspired by futurism and geometry and it symbolizes the nine islands of the Azores. " To learn more, visit: http://www.adesignaward.com/design.php?ID=33956.
The Platinum A' Design Award
The Platinum A' Design Award is a prestigious award given to top 1% percentile designs that has exhibited an exemplary level of greatness in design. Entries to the A' Design Award & Competition are peer reviewed and anonymously judged by a 50-person expert jury panel consisting of established academics, prominent press members and professional designers. Laureates of the A' Design Awards are given the A' Design Prize which includes a series of PR and marketing services such as publication of the award winning designs at DXGN and IDNN design magazines, interviews with the designers, inclusion in World Design Rankings, as well as exclusive exhibition and invitation to the Gala-Night and award ceremony in Italy,
About A' Design Award and Competitions
A' Design Award and Competition is the worlds' leading design accolade that accept entries of extraordinary, original and innovative design concepts, products and services for awards consideration. A' Design Awards are organized internationally in a wide-array of creative categories in order to highlight the best designs from across the globe. The ultimate aim of the International A' Design Competition is to push designers, product manufacturers and brands worldwide to come up with superior products and services that benefit society. Learn more about the A' Design Competition at http://www.whatisadesignaward.com.