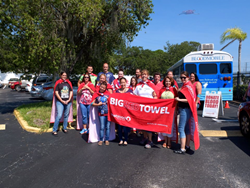 Some of the NTC employees that participated in the blood drive on July 18.
Palm Harbor, FL (PRWEB) August 13, 2014
On July 18, NTC (Nationwide Title Clearing, Inc.) hosted a company-wide blood drive in which employees donated 55 pints of blood, surpassing all previously-established donation records for NTC. Since each pint helps to sustain life for as many as three people, the donations are enough to help save the lives of up to 165 people in need. Overall, NTC employees have donated 349 pints of blood due to the numerous blood drives held over the years, helping a total of over 1047 people.
While more than 4.5 million patients need blood transfusions each year in the U.S. and Canada, only 37% of the U.S. population is eligible to donate blood—and of those citizens, less than 10% do so annually. (1) Such high demand for donated blood has led NTC executives to make annual blood drives an intrinsic part of the company's culture, according to NTC CEO John Hillman, who added that each year, NTC encourages all eligible employees to participate and hosts the drive on company premises to make this possible.
"We realize that people—many of them right here in our own community—are in need of help, and we want to do everything within reach to provide that help," said Hillman. "As a successful local company, we feel a responsibility to do all we can and push the boundaries beyond what may be just "comfortable" to do."
NTC has previously held several blood drives through blood centers operating throughout the Tampa Bay area, where dozens of hospitals and ambulatory care services depend on donations for whole blood, as well as other blood products and services.
NTC's commitment to hosting blood drives over the years was recognized by Danielle Auger, Community Relations Coordinator at not-for-profit blood center OneBlood, who commented, "NTC represents a model company for anyone looking to hold a successful drive—from signing everyone up well in advance to informing them of how to ensure they have sufficient iron to donate. Companies like NTC are vital to helping our organization reach its goal one day at a time."
OneBlood recently issued an appeal for Type O Negative blood donations, which have reportedly "reached very low levels due to summer vacations and school and college summer breaks." (2) NTC encourages anyone with Type O Negative blood to donate at OneBlood, or any local blood center, as soon as possible.
In addition to its blood drives, NTC has demonstrated its dedication to having a positive impact on the Tampa Bay area by way of its involvement in many philanthropic enterprises, including annual toy and food drives, as well as its annual participation in Relay For Life. NTC also supports Toys for Tots and the Annual Harbor Art Festival—all in an effort to make the community a better place to live and work for their hundreds of employees. NTC plans to continue hosting annual blood drives at NTC headquarters in Palm Harbor to make it convenient for employees to participate.
For more information about NTC, including its research and document processing services, visit http://www.nwtc.com.
About NTC:
Based in Palm Harbor, Florida and founded in 1991, NTC (Nationwide Title Clearing, Inc.) is a privately owned leading research and document-processing service provider to the residential mortgage industry. NTC serves mortgage lenders, servicers and investors, including eight of the top 10 residential mortgage servicers in the country. NTC is known for delivering the highest level of accuracy in research services and quality document processing that set the industry standard while protecting homeowners, assisting the mortgage banking industry and preserving the nation's land records. The company's land records and document experts are able to track and fulfill county document requirements in all recording jurisdictions nationwide, which is close to 3,600 different jurisdictions. NTC specializes in providing land records research, property reports, lien release services, assignment services, final document tracking, document retrieval and other custom business solutions. NTC's expansion is tied to their contribution to their industry and their local community, ranking number 26 on the 2013 Fast 50 Awards list of fastest growing companies in Tampa Bay, and number 1,900 on the 2013 Inc. 500/5000 list of fastest-growing companies in America, up from number 2,730 in 2012. NTC also won the Inc. Hire Power award for the second consecutive year in 2013 for putting Americans back to work. For more information, visit the company's website at http://www.nwtc.com.
1. "56 Facts About Blood and Blood Donation." Blood Centers of the Pacific. N.p., n.d. Web. 03 Aug. 2014. bloodcenters.org/blood-donation/facts-about-blood-donation/.
2. "Immediate Need for O Negative Blood Donations." Tampa Bay News Wire. N.p., n.d. Web. 5 Aug. 2014. tampabaynewswire.com/2014/07/10/immediate-need-for-o-negative-blood-donations-25374.