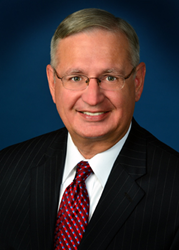 'We look forward to developing strong, long-term commercial banking relationships in the thriving Jacksonville market.' — Michael T. Farrell, President, Urban Trust Bank
Jacksonville, FL (PRWEB) August 14, 2014
To better serve the growing numbers of commercial banking customers in northeast Florida, Urban Trust Bank® (UTB), based in Lake Mary, FL, is pleased to announce the opening of a commercial loan office at 10151 Deerwood Park Boulevard, Building 200, Suite 250, in Jacksonville.
UTB's new commercial office is managed by Joseph D. "Chip" Sistare III, Senior Vice President, who has extensive experience in commercial lending in the Jacksonville area. Sistare is a veteran banker who held positions as Chief Lending Officer, Senior Lending Officer and VP Commercial Banking. "We are very fortunate to have a banker with the experience of Chip Sistare to manage our Jacksonville office," said Michael T. Farrell, President of Urban Trust Bank. Sistare's previous experience includes Heritage Bank of North Florida, Proficio Bank, and First Citizen's Bank. He earned his undergraduate degree in Banking/Finance from the University of South Carolina, Moore School of Business.
Urban Trust Bank's Jacksonville office will be modeled after UTB's successful Orlando office. It will focus on customized lending solutions for commercial real estate developments, office buildings, and warehouse buildings, as well as providing lines of credit for home builders and commercial businesses. "We look forward to developing strong, long-term commercial banking relationships in the thriving Jacksonville market," said Farrell. Recently closed loans by UTB include permanent financing for shopping centers in Orlando, Melbourne, and Kings Bay, GA; builder lines of credit for local and national home builders; acquisition and development loans in Orlando, Tampa, and St Cloud; and permanent financing for hotels in Gainesville and at the Orlando Convention Center.
Urban Trust Bank's Jacksonville commercial lending office is committed to working with customers to understand their operations, goals, and challenges, and to customize creative financial solutions and provide state-of-the-art treasury management products. For more information about the commercial lending services available from UTB in Jacksonville, contact us at 904-371-1273.
About Urban Trust Bank
Urban Trust Bank® (UTB) is a federally chartered community bank that provides consumer and commercial banking services through an extensive network of branches in Florida. UTB is headquartered in Central Florida and has 20 branch locations, with 19 branches located inside select Walmart Supercenters®. Our bankers are empowered to engage with customers, developing relationships that improve lives and strengthen communities — all part of our unwavering commitment to exceed customer expectations with the highest level of quality service and involvement in the communities we have served for over 50 years. Visit us at http://www.urbantrustbank.com.