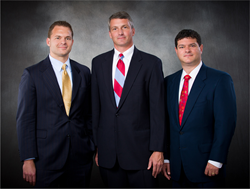 Atlanta, GA (PRWEB) August 15, 2014
The law firm of Fried Rogers Goldberg LLC in Atlanta is proud to announce partner Joseph A. Fried has been named Trucking Trial Lawyer of the Year for 2013-2014 by the American Association for Justice. This honor further confirms the status of Fried Rogers Goldberg as one of the nation's preeminent personal injury firms handling truck accident cases.
Joe Fried, a former police officer who has been practicing law for more than 20 years, was selected from a pool of 400 attorneys across the country. The award presented by the Trucking Litigation Group of the American Association for Justice commends Joe for his "outstanding representation of people harmed by unsafe trucking companies, and relentless dedication to public safety in commercial transportation."
Joe was the first attorney in Georgia to be certified as a specialist in trucking cases by the Association of Plaintiff Interstate Trucking Lawyers of America.
About Fried Rogers Goldberg LLC
Partners Joe Fried, Buck Rogers and Michael Goldberg lead the Atlanta-based firm, with trucking cases making up more than 75% of their caseload. The firm has published a book entitled Understanding Motor Carrier Claims, currently in its fourth edition, focusing on how to handle trucking cases. The attorneys are frequently consulted on trucking cases by other attorneys nationwide, and have advised police on investigating truck accidents.
The firm is often referred to as The Truck Accident Attorneys. Learn more about them at the firm's website.