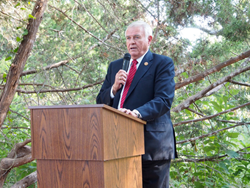 Tolteq is a national leader in designing and manufacturing equipment for drilling oil and a gas, which is an absolute necessity for this country.
Cedar Park, Texas (PRWEB) August 12, 2014
During his visit to Tolteq, Congressman Carter was exposed to the ruggedized hardware and sophisticated electronics that have allowed energy companies to successfully tap into widespread unconventional resources that were overlooked just a decade ago. Congressman Carter toured the Tolteq facility with company President and Founder Paul Deere, and visited with employees working on various projects.
Speaking to the gathered company employees, the Congressman focused on the meteoric rise of American oil and gas production, projected by some experts to surpass that of Saudi Arabia in the coming years.
"Tolteq is a national leader in designing and manufacturing equipment for drilling oil and a gas, which is an absolute necessity for this country," said Congressman Carter. "Our friends and neighbors who live right here in Central Texas are providing the solution through American ingenuity, hard-work, and dedication to lessen our dependence on foreign oil and gas."
The Congressman also touched on another benefit from the new energy boom: job creation. "These are the American jobs with American solutions we all admire," he said. "I look forward to seeing our economy grow through the great work of companies like Tolteq."
Tolteq designs and manufactures a variety of downhole electronics that reside in the drill string behind the drill bit, designed to detect and transmit locational and formation data to the surface via mud pulse telemetry. The company also provides various patented solutions to help drillers analyze well bore data and troubleshoot drilling issues.
This is the second time in Tolteq's short history in which it has received attention from policymakers. In late 2012, Texas Governor Rick Perry toured Tolteq as well, and paid tribute in his speech to energy security and small businesses throughout the state.
Tolteq President Paul Deere, who built his company from a two-person operation through a focus on reliable and efficient MWD products, said: "We are excited to be recognized at such a high-level for what we are doing. We've been saying it all along—this boom would not have been possible anywhere else in the world. It's the independent oil companies, with their innovative spirit and determination, that made it happen. We are proud to be supporting them in their continued success as we get closer to energy independence."
Congressman Carter has in the past supported various energy initiatives to promote domestic oil and gas production, including H.R. 2728, entitled Protecting States' Rights to Promote American Energy and Security Act.
About Tolteq
Tolteq Group, LLC, (Tolteq) is a leading provider of Measurement While Drilling (MWD) systems and components. Tolteq's innovative engineering transforms downhole data into downhole intelligence. We push the known boundaries to give our clients' reliable data and reliable tools, because that means the difference between a successful job and one filled with interruptions. Tolteq's goal is to minimize the clients' non-productive time by providing innovative tools and software solutions that offer market-leading reliability and allow unprecedented access to downhole data.
Tolteq – transforming downhole data into downhole intelligence. http://www.tolteq.com
###