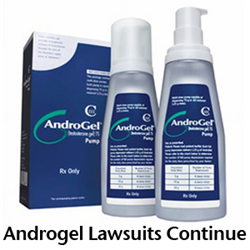 If your believe you have suffered cardiovascular problems due to Androgel or other Testosterone Treatment Drugs Call Wright & Schulte today for a Free Legal Evaluation at 1-800-399-0795 or by visiting www.yourlegalhelp.com
Columbus, OH (PRWEB) August 16, 2014
The product liability lawyers at Wright & Schulte LLC have recently learned that a AndroGel class action lawsuit has been filed in London, Ontario, Canada (Court File No. 3704CP/14) against the companies that manufacture and market AndroGel, a testosterone treatment medication used by men. The AndroGel lawsuits contend that Abbvie Products LLC and Abbott Laboratories Ltd., which manufactures and markets AndroGel, failed to warn AndroGel users about the risks of heart attacks, blood clots, strokes and death associated with the drug. Similar allegations have been leveled against the same companies in over 150 AndroGel lawsuits filed in the United States after the FDA announce it was investigating the potential risks associated with low testosterone therapy drugs. These testosterone therapy complaints have been consolidated in the U.S. District Court, Northern District of Illinois, with lawsuits filed against other manufacturers of low testosterone treatment medications, such as Androderm, Delatestryl, Depo-Tesosterone, and Testim. As of July 15, 2014, there are 156 testosterone lawsuits pending in the Illinois federal court (MDL 2545).
[marketwatch.com/story/androgel-testosterone-replacement-therapy-class-action-commenced-in-canada-2014-07-24, July 24, 2014]
The Canadian testosterone therapy class action lawsuit, filed on June 26, purports Abbott Laboratories Ltd., used aggressive marketing to mislead the public about the prevalence and symptoms of the low testosterone medication and the safety and effectiveness of AndroGel. The testosterone therapy lawsuit purports that this type of marketing ultimately failed to protect AndroGel users from the serious side effects of the testosterone replacement medication. The news release issued by the law firms that filed the complaint says this is the first testosterone replacement therapy class action in Canada.
U.S. Court records indicate that there are currently over 150 testosterone lawsuits pending litigation and AndroGel lawsuits continue to be filed while in the testosterone multidistrict litigation in the Northern Illinois federal court. In June, an AndroGel lawsuit was filed under MDL 2545 on behalf of a 72-year-old Texas man who alleges he suffered a significant myocardial infarction, or heart attack, in November 2005 as a result of being prescribed AndroGel in January 2005. The testosterone lawsuit further purports the myocardial infarction caused severe physical and emotional injuries, which affected the man's personal and professional life. In addition, the testostoerone therapy complaint contends that the defendants, AbbVie and Abbot Laboratories, knew or should have known that AndroGel created significant risks of serious bodily harm and they failed to adequately warn consumers and health care providers about those risks.
In July, Health Canada issued a warning about the potential life-threatening heart and blood vessel risk linked with testosterone products after completing a safety review of the prescription drugs. According to the Canadian regulatory agency, Andriol, Androderm, AndroGel, Axiron, Delatestryl, Depo-Testosterone, Testim and their equivalent generics are among the 12 products that contain testosterone that are currently marketed in Canada. Health Canada ordered manufacturers of these drugs to update the labels on their testosterone products to include the risks of heart attack, stroke, blood clots in the lungs or legs, and increased or irregular heart rate associated with the use of testosterone medication.
[healthycanadians.gc.ca/recall-alert-rappel-avis/hc-sc/2014/40587a-eng.php, July 15, 2014]
The U.S. Food & Drug Administration (FDA) is conducting a similar safety review of testosterone replacement therapy drugs in wake of the growing use of prescription medications, such as AndroGel, Androderm, Delatestryl, Depo-Testosterone, and Testim, to treat hypogonadism, which are low testosterone levels in men due to an underlying medical condition. The FDA said their decisions to reassess the safety of these drugs were based on two separate studies. The first study published in November 2013 by the Journal of the American Medical Association (JAMA) suggested that men who were prescribed testosterone medication as part of the study were at a 30 percent increased risk of stroke, heart attack, and death. The second study published in the PLOS One Journal January 29, 2014, found an increased risk of heart attack in older men, and in younger men with pre-existing heart disease, who filled a prescription for testosterone treatment.
[fda.gov/Drugs/DrugSafety/ucm383904.htm?utm_source=rss&utm_medium=rss&utm_campaign=fda-evaluating-risk-of-stroke-heart-attack-and-death-with-fda-approved-testosterone-products, January 31, 2014] [plosone.org/article/info%3Adoi%2F10.1371%2Fjournal.pone.0085805, January 29, 2014] [jama.jamanetwork.com/article.aspx?articleid=1764051, November 6, 2013]
The FDA's monitoring of testosterone treatment products extends to AndroGel. In June, the federal agency updated the medication guide for AndroGel to include warnings of the risks of blood clots in the legs and lungs. As a result of the FDA's change to the medication guide for AndroGel, the testosterone treatment now has seven side-effects that include:

Enlargement of the prostate gland
Possible increased risk of prostate cancer
Lower sperm count if taken in large doses
Swelling in ankles, feet or body, with or without heart failure
Enlarged or painful breasts
Sleep apnea
Blood clots in the legs or lungs
[fda.gov/Drugs/DrugSafety/ucm085729.htm, June 27, 2014]
About Wright & Schulte LLC
Wright & Schulte LLC, an experienced personal injury firm, is dedicated to the belief that America's legal system should work for the people. Every day, the attorneys of Wright & Schulte LLC stand up for the rights of people who have been injured or wronged and fight tirelessly to ensure that even the world's most powerful corporations take responsibility for their actions. If you're looking for a law firm that will guarantee the aggressive and personal representation you deserve, please do not hesitate to contact Wright & Schulte LLC today. Free AndroGel lawsuit case evaluations are available through yourlegalhelp.com or by calling 1-800-399-0795.
Contact:
Wright & Schulte LLC
812 East National Road
Vandalia, Ohio 45377
1-800-399-0795
http://www.yourlegalhelp.com
Like us on Facebook
Follow us on Twitter
Join us on Google+